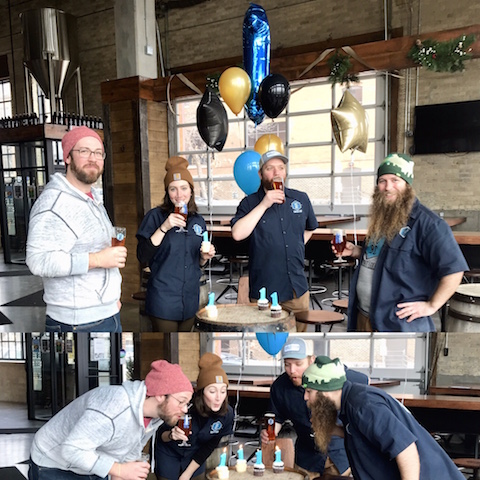 We're turning 1 Year Old and we want to celebrate with you! We can't believe that it has already been a whole year since we started pouring beer for you, our loyal followers. We had a great time in 2018 and we're looking forward to making 2019 bigger and better. We've got some exciting new projects that we will be rolling out throughout the year but we thought we would start things off on the right foot.
We'll be hosting events all week long in celebration of the First Anniversary at Dual Citizen Brewing Co. Join us January 22nd-27th for exclusive beer releases, live music, food, specialty trivia and games, specials, raffles and giveaways.
Exclusive Beer Releases:
Barrel Aged 750mL Bottling Program
We're excited to announce our brand new 750ml bottle program! We will be releasing the first three installments over our anniversary weekend.
DAYTON – Wine-Barrel Saison, ABV: 8.0% IBU: 25 SRM: 7, Aged 3 months In French Bordeaux Red Wine Barrels.
B.A. GRAND – Imperial Stout, ABV: 10.0% IBU: 60 SRM: 45, Aged 4 months in Vikre Sugarbush Whiskey Barrels.
B.A. CROMWELL – Baltic Porter, ABV: 8.0% IBU: 30 SRM: 34, Lagered 2 months in Vikre Sugarbush Whiskey Barrels.
Re-releases ON TAP:
We saved a couple of kegs of our favorite beers throughout the last year specifically to be featured at our One Year Anniversary.
MT. CURVE: Farmhouse Ale w/ Mango- A personal favorite of Owner/Head Brewer: Max Filter.
GRAND: Imperial Stout, Batch #1- We saved a ½ bbl of our first batch of Grand, specifically to age for one year and tap on our First Anniversary.
Anniversary Week Specials: 1/22-1/27:
$25 Growler Gift Boxes
Gift Cards: Buy $50 get $10 free
Crowler Anniversary 3 Pack: Buy 3 Crowlers, get $6 off
1/22 Tuesday
Food Truck: Brick Oven Bus 5-8:30pm
Trivia Mafia: 7-9pm
1/23 Wednesday
TRIVIA MAFIA THEME NIGHT: Simpsons Trivia 7-9pm
MN Wild @DCBC: 8:30-10pm
1/24 Thursday
Bottle Release: B.A. Dayton 3-10pm
RE-Release: Mt. Curve @3pm
Service Industry Thursday: $3 Beers 3-11pm
Beer & Cheese Pairing 7-9pm
1/25 Friday
Bottle Release: B.A. Grand 2-10pm
RE-Release: Grand Batch #1 @2pm
Food Truck: Emconada 4-10pm
Game Night: Cribbage Tournament, 7-10pm
Winterfest Attendees BOGO: Taproom BOGO on 1/25 w/ Ticket
Late Night HH: 9pm-12am
1/26 Saturday (BIG CELEBRATION DAY)
Yoga: 10:30-11:30am
Femelle Spirit Pop Up: 11:30am-4:30pm
The Naughty Greek-On Site 'Athenian Street Food Stand': 12-7pm
Bottle Release: B.A. Cromwell 12-10pm
Drawings and Raffles w/ MC Pat Kessler 2-6pm (Prizes include: Beer for A Year, Winter Beer Dabbler Tickets, Exclusive Bottles of DCBC Beer, Swag and more).
Live DJ: Slipmats Radio 8pm-close
Late Night HH: 9pm-12am
1/27 Sunday
2-HR Tot-time: 12-2pm
Food Truck: Rollin Nolen's BBQ 12-6pm
Live Music: Twin Cities 1-3pm
https://dualcitizenbrewing.com/calendar/first-anniversary-celebration-1-22-1-27-2019/