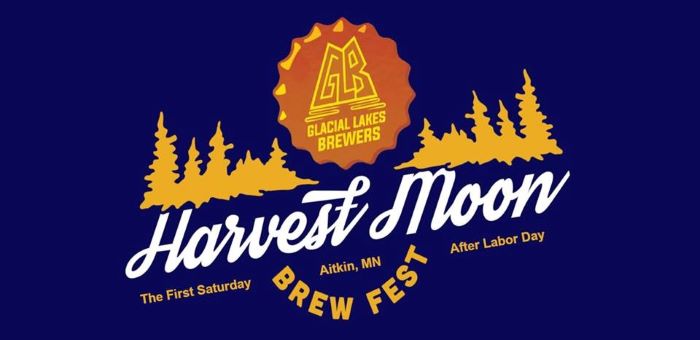 FOR IMMEDIATE RELEASE
Aitkin's 6th annual Harvest Moon Brew Fest planned for Sept. 7
Aitkin, Minnesota, July 16, 2019 – Bigger and better things are "on tap" for the sixth annual Harvest Moon Brew Fest from 3-6 p.m. Saturday, Sept. 7, 2019, in downtown Aitkin, Minnesota, (outside, along 3rd Street NE). The event features many of Northern and Central Minnesota's best craft breweries, including locally brewed beers from the Glacial Lakes Brewers, an Aitkin-based brew club and host of this year's Harvest Moon Brew Fest.
Many of last year's breweries are returning, including Beaver Island Brewing Company from St. Cloud, Big Axe Brewing Company from Nisswa, Block North Brew Pub from Aitkin, Cuyuna Brewing Company from Crosby, Jack Pine Brewery from Baxter, Klockow Brewing Company from Grand Rapids, Moose Lake Brewing Company from Moose Lake, Roundhouse Brewery from Brainerd, Sapsucker Farms Yellow Belly Cider from Mora, and Surly Brewing Company from Minneapolis. Blue Ox Brewers Society, a brew club from Brainerd, will also serve their home brews.
Brews and more
"Last year's event attracted beer lovers from 157 cities in the tri-state area," said Dan Hansen, president of Glacial Lakes Brewers. "This is a great annual event that brings people into Aitkin, allowing us to showcase our wonderful community."
In addition to the great beer, the event also includes:
• Variety of food options – from kettle corn to walking tacos
• Musical entertainment
• Games and activities
• And more!
Tickets
Tickets are $25 in advance and $35 at the gate and include a commemorative tasting glass to sample more than 60 different beers and ciders. Designated driver tickets are $10 and include non-alcoholic beverages and food vouchers.
Tickets are available for advance purchase at Aitkin Independent Age, Block North Brew Pub, Paulbeck's County Market and Security State Bank. They are also available online through Eventbrite.
This is a rain or shine event for ages 21 and up.
Proceeds and sponsors
Net proceeds from the Harvest Moon Brew Fest will go to the Aitkin Education Foundation, supporting a variety of enrichment opportunities for students in Aitkin Public Schools, and to the Showboat of the Mississippi, currently undergoing restoration to host year-round entertainment in Aitkin.
Event sponsors include Aitkin Independent Age, Beartooth Hardware, Block North Brew Pub, Posh Hair Parlor, Security State Bank, Shirts Plus and Wildcraft Meats.
More information
• Ross Otto: 218-343-4410, Ross@GlacialLakesBrewers.org
• www.GlacialLakesBrewers.org or www.facebook.com/harvestmoonbrewfest/
For more information regarding this release:
Lori Welle
Lori.welle@gmail.com
651-769-7993