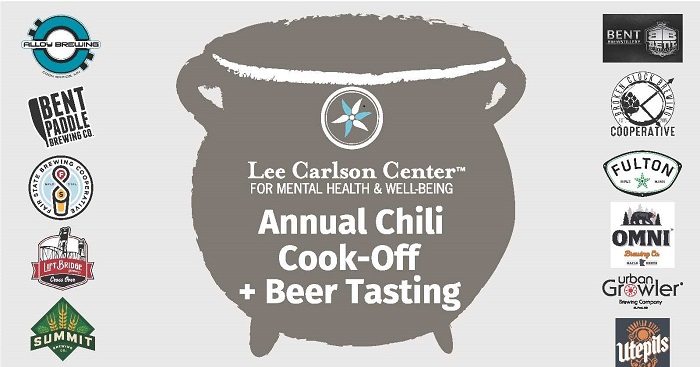 Lee Carlson Center's annual Chili Cook-Off offers you the opportunity to taste 15 different recipes of HOMEMADE chili created by local teams!
(If you would like to participate by creating a team, there is still time!)
You will also be able to sample artisan beers from 11 local breweries!!
Fulton Beer, Summit Brewing Company, Bent Paddle Brewing Co., OMNI Brewing Co., Bent Brewstillery, Alloy Brewing Company, Utepils Brewing Co, Urban Growler Brewing Company, Fair State Brewing Cooperative, Broken Clock Brewing Cooperative and Lift Bridge Beer Company will all be in attendance!
Live music will be performed by local singer/songwriter, Vinnie Rose, AND you will have the opportunity to win some AMAZING raffle items!
Tickets are only $25.00 for Chili Tasting alone or $45.00 for Chili & Beer Tasting.
Proceeds from the event go to Bridgeview's "Meals for members" program which provides free daily meals to clients attending our drop-in clinic for individuals with serious and persistent mental illness!
Tickets: https://www.eventbrite.com/e/3rd-annual-chili-cook-off-beer-tasting-tickets-41565554693