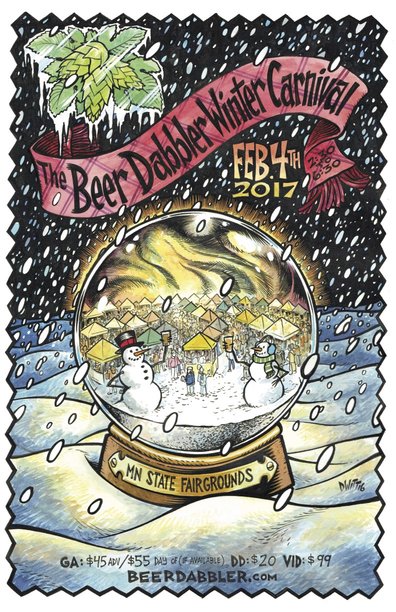 Rates
$45 in advance/$55 at the gate.
Date(s)
February 4, 2017
About
Unlimited samples from 150+ local, regional, and national craft breweries, live music, and fun winter activities await you at the Beer Dabbler Winter Carnival.
WHERE: The Mighty Midway at the Minnesota State Fairgrounds
TICKETS: Tickets available at beerdabbler.com:
General Admission ($45 Advance – $55 Day of if available)
Very Important Dabbler (V.I.D.) Package ($99), which includes early beer pouring, catered meal, access to the V.I.D. heated tent, additional amenities, and exclusive live entertainment
Designated Driver ($20 advance – $30 day of if available)
Very Important Designated Driver (V.I.D.D.) Package ($50)
General Admission and Designated Driver tickets are also available at the following retail locations*:
The Beer Dabbler Store, 1095 W. 7th St., Saint Paul
The Ale Jail, 1787 Saint Clair Ave, Saint Paul
Stinson Wine, Beer, and Spirits, 2315 18th Ave NE, Minneapolis
Thomas Liquors, 1941 Grand Ave, Saint Paul
*Ticket for sale at retail locations are CASH ONLY.
This event is 21+. No exceptions.
Visit beerdabbler.com and follow us on Twitter @beerdabbler where we'll be using #BDWC17 for updates related to the event. We'll also be sharing event details on Facebook at Facebook/thebeerdabbler.