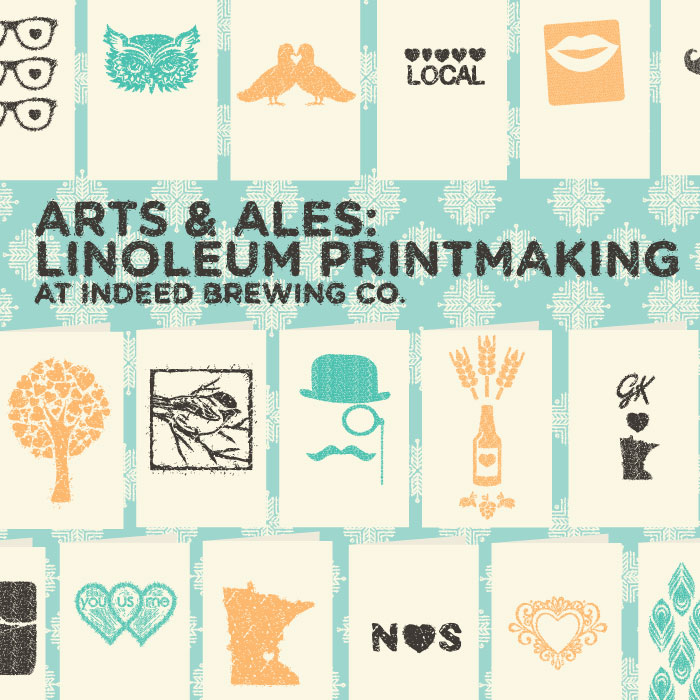 FOR MORE INFO & TICKETS VISIT:
TICKET INCLUDES:
-3 Hour Linoleum Printmaking Art Class
-Two Self-Carved Linoleum Print Blocks to Take Home
-10 Self-Printed Cards and/or Stationary to Take Home
-All Tools and Materials Needed to Create your Own Lino Blocks
-Stencils and Templates to Help Create Your Blocks
-Pint of Indeed Brewing Company Beer
-Locally Crafted Hot Sandwich with Side from Gastrotruck
-Access to Indeed's New Space "The Ox"
-Free Growler Deposit
-Take-Home GetKnit Koozie
EVENT DETAILS:
Minneapolis and St. Paul are home to world-class museums, a plethora of theaters, countless local artisans, and two full cities' worth of breathtaking architecture. To say that the Twin Cities are a mecca for art lovers would be an understatement. One art form that is gaining popularity across our state is the creation of craft beer with its multilayered flavors and rich colors. Inspired by the art of beer, we've created a Linoleum Printmaking class (also know as "linocut") for the next installment of our Arts & Ales event series!
Linocut is a printmaking technique in which a design is cut into the linoleum surface with a sharp knife, V-shaped chisel, or gouge, with the uncut areas representing a mirror image of the art to be printed. The linoleum sheet is then inked with a roller, and then impressed onto paper. Using these blocks and ink, you can create greeting cards, stationary, wall-art, or any other stamping application! For this event we are proud to be partnering with Indeed Brewing Company and local artists from around the Twin Cities to pair together two "crafts" for two exclusive dates this winter.
Each evening will begin at Indeed Brewing Company, which is located in the Solar Arts Building in N.E. Minneapolis. Here, your GetKnit Gurus will be awaiting your arrival in Indeed's brand new event space – "The Ox" and get you checked in for our creative night of fun and crafts. After ordering up one of Indeed's artfully delicious beers, we will all enjoy a meal from Gastrotruck, a local food truck that concocts inspiring combinations of flavors in everything they serve.
After we eat and drink our fill, we will be ready to learn a new craft and create a two take-home linoleum blocks for us to do our own printmaking! We'll first get a demonstration of how to work with the tools and materials used in creating these one-of-a-kind prints. Then we will test out our new skills and get to work on a 2″ x 3″ tester block. After you get the feel for the tools, you'll be able to work on another block that will be 4″ x 6″ in size. We will have stencils and inspiration available for you to create art or you can bring your own designs as well! After we've created our linocuts we'll break out the ink and special rollers and get to printing! As part of this class, you will receive two take-home linoleum blocks for you to create your own 'mini' printing presses, all materials to create these blocks, and of course the paper and ink to print your beautiful cards or stationary!
Whether you're looking to make valentines for the loved ones in your life, hand-made thank you cards, or just fun stationary to brighten your work memos – Linoleum Printmaking is fun for all!
Join us for one of these special Arts & Ales events to tap into your creative side and release your inner artist.