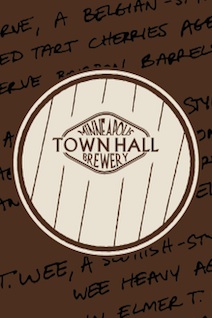 Minneapolis Town Hall Brewery's Barrel-Aged Week is February 14–20, featuring the release of 12 beers throughout the week that have been aged in wine, whiskey, or bourbon barrels over the past year.
Limited tickets for 750mL growlers of the barrel-aged beers go on sale at Town Hall Brewery at 10 a.m., Sunday, February 14.
The award-winning Town Hall Brewery is a national pioneer in barrel-aging beer— the brewpub was honored at the Great American Beer Festival in 2001 with one of the first-ever medals for a barrel-aged beer. Town Hall also differentiates its barrel-aging process by making annual road trips to Kentucky's Bourbon Trail to select the freshest barrels directly from distillers.
Of the 12 beers being released during the 2016 Barrel Aged Week, six are new to Town Hall's barrel-aged roster, or variations of established recipes. Highlighting this year's selection is the first run of the Trois Vies Series — "four barrels with three lives." These French Oak barrels from a California winery housed high-quality pinot noir before being sent to a Kentucky distillery to age bourbon, after which they came north where they aged four different Town Hall beers. Brewmaster Mike Hoops says this series will be nearly impossible to recreate.
View the barrel-aged beer release schedule for the week: https://www.facebook.com/events/1670984873152778/
Dates:
Feb. 14-20 (10 a.m.-11 p.m.)