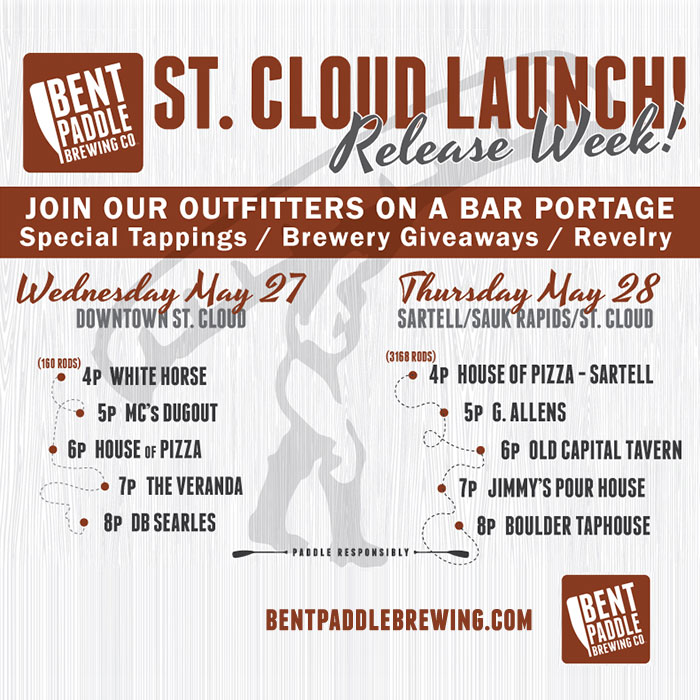 Join Minnesota Bent Paddle Brewing Co. outfitters on a bar portage tour across the St. Cloud community.
This is not a traditional tap takeover. The Duluth-based brewers will be hosting a two-day series of tap takeovers moving across 10 craft-oriented bars and restaurants in the community. The Bent Paddle Brewing Co. tap takeover will give curious patrons a convenient way to compare and contrast the variety of flagship and specialty styles for an hour at each location. Follow the Bent Paddle branded urban canoe on the "portage."
At each St. Cloud, Sartell or Sauk Rapids establishment by sampling a Bent Paddle tap, you'll receive a "portage" stamp. Craft beer drinking supporters that collect all five "portage" stamps through the evening tour will be entered into a grand prizing drawing for essential canoe daypack from Frost River filled with Bent Paddle gear at the final stop each night. Other brewery prizes and establishment giveaways will be given throughout the evening of revelry.
In their second year of business, Bent Paddle Brewing Co. is a 30-barrel production craft brewery and 1,200 square foot taproom located in the beautiful Great Lakes port town of Duluth, Minn.
Wednesday, May 27 | Downtown St. Cloud
4 p.m. – The White Horse
809 W. St. Germain St. St. Cloud, MN 56301
Phone: 320-257-7775
5 p.m. – MC's Dugout Bar and Grill
501 W St. Germain, Downtown St. Cloud, MN
Phone: 320-259-9862
6 p.m. – House of Pizza
19th 5th Ave S. St. Cloud, MN 56301
Phone: 320-252-9300
7 p.m. – Veranda Lounge
22 Fifth Ave South, St. Cloud, MN 56301
Phone: 320-258-0254
8 p.m. – D.B. Searle's Bar & Nick's Third Floor restaurant
18 5th Ave S, St Cloud, MN 56301
Phone: 320-253-0655
Thursday, May 28 | Surrounding St. Cloud Area – Sartell and Sauk Rapids
4 p.m. – House of Pizza Sartell
1733 Pine Cone Road S #200, Sartell, MN 56377
Phone: 320-258-9300
5 p.m. – G Allen's Restaurant & Sports Bar
116 Evergreen Drive Sartell, MN 56377
Phone: 320-230-9006
6 p.m. – Old Capital Tavern
2 North Benton Drive, Sauk Rapids, MN 56379
Phone: 320-291-4541
7 p.m. – Jimmy's Pourhouse
22 2nd Ave North Sauk Rapids, Minnesota,
Phone: 320-253-0208
8 p.m. – The Boulder Tap House
3950 2nd St S, St Cloud, MN 56301
Phone: 320-230-0100