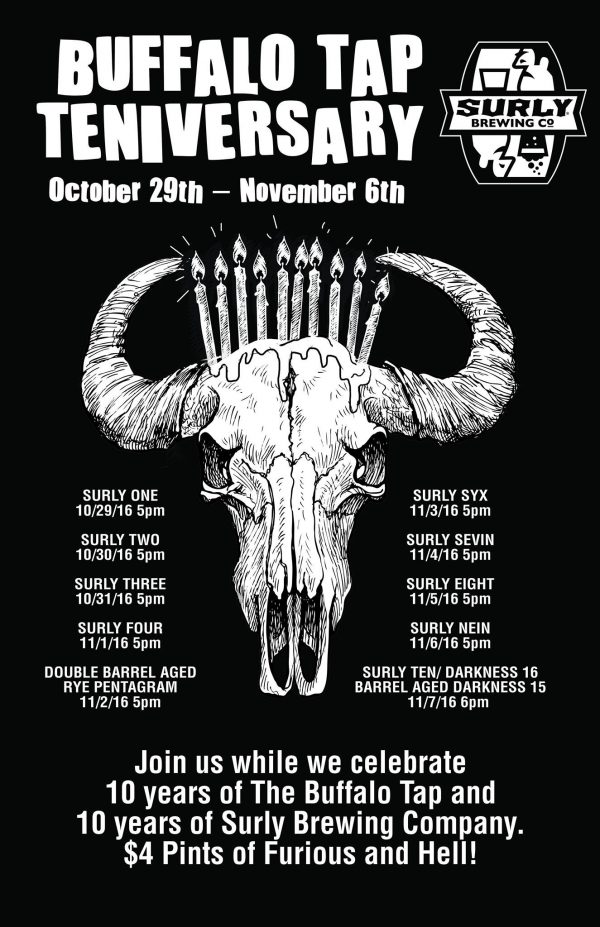 For Our First Announcement We Have Teamed Up With Surly Brewing To Celebrate Our Ten Years In Doing Business Together!Congratulations To Surly Brewing On Their First 10 Years Of Business!
Surly Furious Was One Of Our First Additions To Our Beer List When We Opened. Having Such An Amazing IPA On Tap That Wasn't Available Anywhere Near Us South Of The River, People Came From All Over Just To Have A Surly Furious With Dinner! It Was And Still Is A Staple To Our Beer List. But Back In The Day, It Gave Us The Credibility Needed To Get Craft Beer Enthusiests In The Door. Gaining That Customer Base Allowed Us To Try Unique & Big Beers And Build A Larger Following Of Beer Nuts!
For Each Of The Ten Days Leading Up To Our 10th Anniversary We Will Be Tapping A Surly Anniversary Beer Every Day Starting With Surly's First Anniversary Beer On Saturday October 29th Leading Up To Our Tenth Anniversary On Monday November 7th With Surly Ten, Darkness 2016 & Barrel Aged Darkness 2015!
Stop In Every Day At 5pm And Taste The Progression Of Surly Brewing's Innovative Anniversary Beers & DARKNESS!!!