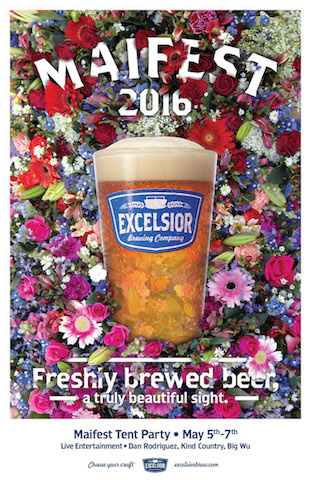 EXCELSIOR CELEBRATES MAIFEST 2016
Winter is gone. Warm weather has arrived. And Excelsior is preparing for our annual celebration of history's greatest Spring get-together: Maifest.
Ever partied so hard you decided to dance around a giant pole waving a ribbon? Well, the Germans have. In fact, they do it every year. They call it Maifest.
At Excelsior, we're big fans of Maifest. The biggest, around, in fact. And we're getting into the spirit with a three-day bonanza, featuring multiple delicious seasonal brews on tap, including a traditional-style Maibock as well as our beloved Portside Pils and always-refreshing MinneGose. Besides delicious Maifest brews, there are plenty of reasons to join the celebration:
-Liter-holding contests Friday evening and Saturday afternoon
-A full suite of bar games
-Live music from a variety of great local performers
-An official Maifest Blessing of the Maibock, Saturday at noon
-Delicious authentic German cuisine, provided by the local Masons, with every dollar they earn being reinvested in the community for things like student scholarships.
Don't miss it the stein-clashing, flower-throwing, prost-cheering event of the season! Festivities start on Thursday May 5th at 4pm, continue on Friday May 6th starting at 4pm, go through Saturday, May 7th staring at 12pm.
On behalf of Excelsior, we hope to see you there, and TGIS (Thank Goodness it's Spring).
Prost,
—Your friends at Excelsior Brewing Company—