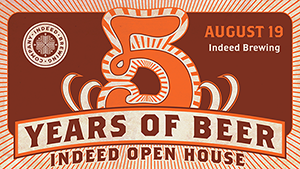 Indeed Brewing Open House
August 19th 12-6pm
Indeed Brewing Taproom
We're ready to celebrate our fifth business birthday, but the presents are all for you, thirsty creatures! We're commemorating FIVE years of business by giving you a behind the scenes look at everything Indeed in our Northeast taproom.
First, enjoy happy hour pricing from 12-6pm on our three original beers, Day Tripper Pale Ale, Midnight Ryder Black IPA, and Shenanigans Summer Ale. Then, take a stroll through the brewery at your leisure on a self-guided tour. Plus, for the first time ever, we will be offering public tours of our offsite barrel-aging facility and distribution center. Sign up for your spot at the taproom! To top it all off, we will have cake, food trucks and an extended patio for the occasion.
But we're not going to just stop the party at 6pm, no way. Come meet us at Icehouse MPLS for the Indeed Brewing Five Year Celebration, an all-night banger featuring live music from Black Market Brass, cajun-style food, a tap takeover and more. Cheers to five years, Indeed!
The Details:
Happy Hour Pricing from 12-6pm on Day Tripper Pale Ale, Midnight Ryder IPA, and Shenanigans Summer Ale.
Self-guided tours of the brewery from 12-6pm
Tours of our barrel-aging facility and distribution center in St. Paul
-See the home of our Wooden Soul program and peek in our 3600 sq. ft. cooler
-Sign up times coming soon
-Tours last approximately 30 minutes with 15 minutes of travel time to and from
-$5 per person