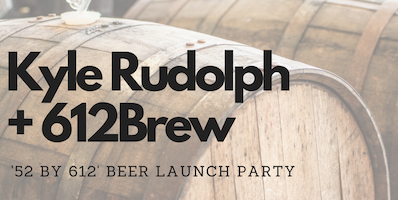 Minnesota Viking's Kyle Rudolph and 612Brew are excited to announce their collaboration on a limited edition beer '52 by 612' this winter. To celebrate the 52nd Big Game coming to the Twin Cities in February, Rudolph and 612Brew wanted to come together and create something special for fans and community.
To celebrate, Kyle Rudolph and 612Brew will be hosting an unveiling party where only 125 members of the public will be invited to join Rudolph and his family/friends and be the first to see the can design, taste the beer and also have an opportunity to get a signed can and photo with Rudolph.
A percentage of the proceeds from beer sales will benefit Kyle Rudolph's End Zone, a state-of-the-art 2,500 sq. ft. patient and family-centered space. Rudolph's End Zone is designed to help children and teenagers find a place to play, relax, engage in healing therapies, and socialize with other patients and families in the hospital.
What comes with your ticket purchase?
-Appetizers from Lord Fletcher's
-(2) Drink Tickets
-Opportunity to get a limited-edition '52 by 612′ cans and have Rudolph sign them
-Photo opportunities with Rudolph
What else do I need to know?
-Parking is limited – there is a parking lot and street parking
-Doors open at 7PM
Link – http://bit.ly/52by612