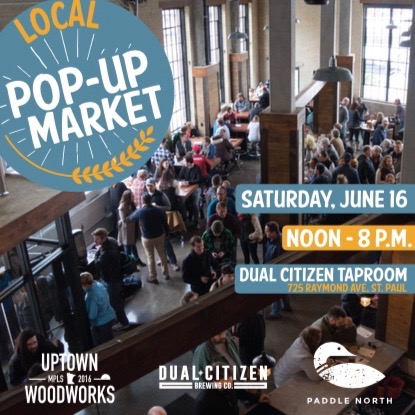 Dual Citizen Brewery welcomes Paddle North and Uptown Woodworks to join our first 'Local Pop-Up Market'. Each shop offers unique products but maintain a common thread, which is Minnesota. Not just as a location but as the inspiration in the development of each craft. We all enjoy what we do and are looking forward to the opportunity to share it with you.
Host:
Dual Citizen Brewery, MN Craft Beer
"Dual Citizen is a community-focused brewhouse with inspired modern takes on classically-styled beers. All with a focus on celebrating community roots and developing local pride".
Products: MN Craft Beer, Local N/As, Growler & Crowlers, Apparel and Glassware
Featured Shops:
Paddle North, Stand Up Paddle Boards
"Raised on Minnesota's 90,000 miles of shoreline, it was only natural that our product center around water. Paddle North's flagship paddle board, the Loon, is made to inspire exploration".
Products: Boards, Accessories, Apparel, SUP Trips & Events and Board Repair
https://paddlenorth.com
Uptown Woodworks, Wooden Wall Art
"Specializes in making custom and personalized wood wall art; including lake maps, outdoor themed décor and celebrations of Minnesota. They absolutely love making projects that are special to the customer."
Products: Custom Designs, Established Designs and Apparel
https://www.uptownwoodworks.com
Food available for purchase from:
Gerhard's Würstelstand, a food trailer offering brats served the authentic European way.
The Naughty Greek, delivering Athenian street food right to your table.
The event is free but you will receive a complimentary, limited edition DCBC tulip glass with each purchase from Paddle North and Uptown Woodworks. If you're just getting your foot wet, no pun intended, feel free to ask questions and familiarize yourself in this pressure free environment. Grab a beer and take a look around, it worked for us.