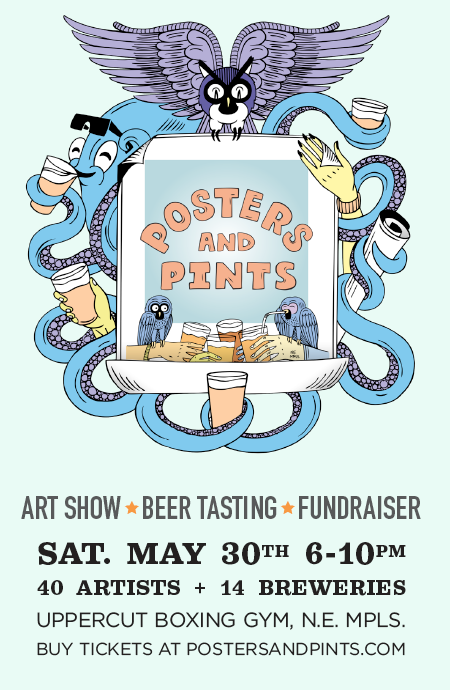 At Poster and Pints, you can peruse and purchase beer-themed, limited-edition posters from award-winning designers, try exclusive beers from top-rated local breweries, all while funding a good cause This one-day pop-up gallery, beer tasting and fundraiser supports Art Buddies: an organization that pairs creative mentors with inner-city kids.
This year's forty artists include:
Amy Imdieke, Andy Kiekafer, Andy Wood, Angel Bomb, Ann Macarayan, Anne Ulku, Ayako Junko Osaki, Brian Geihl, CHUX, Connor Murphy, Dan West, David Witt, Drew Brockington, Ian Davies, Ian Kolstad, Jason Walz, Jeff Holmberg, Jeremy Krzmarzick, John K Vang, Jonathan Reese, Joseph Hrabe, Kate Hartman, Kyle Coughlin, Lockstadt & Alday, Lori Benoy, Lucas Richards, Marla Bonner, Matt Oelkers, Michael Jacobsen, Natalie Wynings, Nic Skrade, Not Swords, Ross Bruggink, Rudy Fig, Ryan Bren, Steve Mario Marinelli, Studio on Fire, Sussner Design Company, Tara Tulenchik and Todd Piper Hauswirth.
Sip a fine selection of craft beers from:
* 56 Brewing
* 612Brew
* Bauhaus Brew Labs
* Dangerous Man Brewing Company
* Day Block Brewing Company
* Eastlake Craft Brewery
* Excelsior Brewing Company
* Fair State Brewing Cooperative
* Flat Earth Brewing Company
* Lake Monster Brewing Company
* Lift Bridge Brewing Company
* Northgate Brewing
* Sociable Cider Werks
* Summit Brewing Company
* Tin Whiskers Brewing Company
TICKET OPTIONS:
* General Admission $25: Includes a custom-designed pint glass and unlimited three-ounce beer samples.
* Designated Driver $10: Non-drinkers can attend at a reduced cost.
All posters at the event are priced at $30 each.
A limited number of tickets will be available at the door for $35.
TICKETS: http://www.postersandpints.com/tickets
FACEBOOK: http://www.facebook.com/postersandpints
WEBSITE: http://www.postersandpints.com