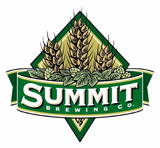 One of Minnesota's "senior" breweries, Summit Brewing Co. turns 26 this fall. In the craft beer world, especially in Minnesota, 26 seems OLD with a grey capital O. In truth, though, they're spring chickens compared to Schell's. Regardless, it takes a lot to get to 26 in the beer industry, and we're glad to see these "old farts" chugging along.
In proper form, Summit is celebrating their 26th anniversary this fall with a Backyard Bash at the brewery from 11-6pm on Saturday, September 8th. Tickets are $14 and will be available starting on Monday, July 23rd at www.summitbrewing.com.
Throwing down at the Bash this year will be locals like Doomtree, Caroline Smith & the Goodnight Sleeps, Halloween Alaska, Now Now, Heartbeats & Summit's own Hotpants DJs. The Current's Mark Wheat will emcee the event in a decidedly non-Minnesotan accent (we forgive you).
And yes, there will be beer… I'll give you one guess as to who might be providing the beer… Look for special cask offerings as well. Local food vendors will be present as well.
Half of all ticket sales will benefit the Minnesota Music Coalition. Pretty cool, eh?