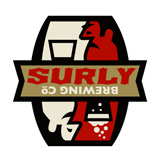 From 2pm – close today Muddy Waters is getting all Surly on your proverbial ass. Muddy's will feature 17 Surly beers, apparently "the most Surly beers on tap, at once, at one establishment, EVER!"
Beer List:
Furious, Cynic, Bender, Coffee Bender, Five, SŸX, Hell, Fiery Hell, Bitter Brewer, Cacao Bender, Darkness, SurlyFest, Wet, Bandwagon, Schadenfreude, Smoke and Mild.
Tap prices will range between $5.50 – $7 and Muddy Waters will also offer a special Hell beer cheese dog for $5.