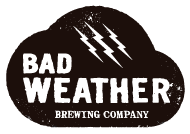 Republic in Uptown hosts the launch of the Twin Cities newest brewery, Bad Weather Brewing Co. on Thursday, March 21 from 4-7p.m. Check out their beer at $3 a pop from 4-6 pm. The launch will feature Windvane a "Minnesota red ale" and Ominous a "Midwest warmer." They'll also have casks of each.
Can't make it Thursday? Hit up Firkin Fest at The Happy Gnome on the 30th for a firkin of dry-hopped version of Windvane. Otherwise be on the lookout for their beer in bars in restaurants in late March.
Bad Weather Brewing joins Lucid Brewing and Badger Hill in an alternating proprietorship collective. Their brewers will brew alongside Lucid and Badger Hill brewers at Lucid's brewery in Minnetonka. Teamwork!
Cheers and best of luck to Bad Weather. Read more below:
Bad Weather Brewing Company is taking its creative cues from the changing Minnesota seasons. The first two beers in production include a year-round flagship, WINDVANE, which is a malt-sturdy and highly hopped Minnesota red ale, and OMINOUS, a limited-time dark storm of a beer with large, intense flavors. Three additional ales are planned to complete the 2013 seasonal rotation, each boasting distinctive and unexpected flavor profiles.

"I believe that Minnesota is one of the most exciting places to be a beer lover right now," says Bad Weather's co-founder Zac Carpenter. "Not because we currently have the best beers or the most beers, but because we get to witness the birth of a great beer culture that will someday very soon rival those in Portland and Denver. It is an honor to be part of that growth and Bad Weather Brewing Company is ready to become a pillar in this market."