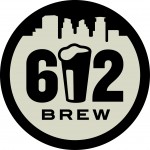 With a name like Mary Ann, this beer needs a song. See below. Next Tuesday, Minneapolis' 612 Brew releases Mary Ann, a ginger lager at Edina Grill starting at 6pm. Edina Grill will have menu items that feature Mary Ann and 612 Brew's SIX and Main Stage Amber will also be available for your imbibing pleasure.
The following day, 612Brew will release Mary Ann in the taproom on draft and make it available for growler sales. The beer will be at other accounts in the coming weeks.
Mary Ann is 612Brew's spring/summer seasonal offering. The beer is the brewery's first lager, brewed with Pilsen and wheat malts, Noble hops and over 70 pounds of ginger. Wait. What? You read that right. Seventy pounds of fresh, hand-grated ginger is added directly into the boil. This beer isn't infused with ginger – it's brewed with it for an all-out flavor and aroma assault. Think ginger ale meets beer. This light lager is low alcohol at 4.1% ABV and amazingly refreshing.