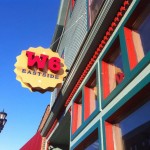 A new beer-conscious dining option on the East Side of Saint Paul has opened on a street already rich with local history. Ward 6 on Payne Avenue is now open daily for dinner as well as for brunch on the weekend. Proprietors Eric Foster and Bob Parker, both East Side residents, wanted a pub-style atmosphere with quality food and quality drinks and found the perfect spot one block north of Phalen Boulevard and within view of the former Hamm's Brewery.
Chef Liz Olson's dining menu highlights real food with real ingredients; sauces are house-made, fries are house-cut, the corned beef is house-cured…the list goes on. Offerings run the gamut from salads to poutine. Features include grass-fed beef burgers, a grilled cheese with camembert, a nightly special and a good-old fish & chips. The actual menu reads with a bit of whimsy so sharpen your wit and enjoy.
The food is reason enough to visit, but Ward 6 is a prime destination for the local craft beer enthusiast. Twenty taps stand at the center of the restored wooden bar.  Foster, a beer judge, has crafted a tap list that is discerning rather than voluminous and entirely local with only two exceptions: Hamm's, which is now brewed in Milwaukee, and one rotating "imported to Minnesota" line currently occupied by Avery's Old Jubilation.
Minnesota beers offered include selections from Summit, Surly, Steel Toe, Flat Earth, Pour Decisions, Lucid, Badger Hill, Fulton, 3rd Street Brewhouse and Indeed. Pints are five bucks (three for Hamm's) and happy hour is from 4 to 6; pints are $3 and Hamm's is $2.  Small pours are available for those looking to taste a few styles. The knowledgeable bar staff would be more than happy to help you experience the beers Minnesota has to offer.
Ward 6
858 Payne Ave
Saint Paul, 55130
Hours:
Hours are expanding – Check their Facebook page for the latest
*Vegetarian & GF options – ask your server