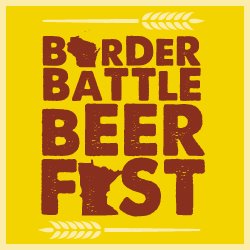 Thirsty yet? Given the number of summer beer fests this year, you really don't have an excuse not to go to one, two or five… Border Battle Beer Fest is a two-day event in Somerset, Wisconsin that promises something for everyone, including whiskey, wings, beer, live music and camping. I'm hoping it's nothing short of awesome.
The beer fest portion of the event is on Saturday, July 14th from 3-7pm. Over 100 Minnesota & Wisconsin beers are pitted against one another in a knock-down, drag-out beer battle (or something like that) with "celebrity judges" picking the winners. Music follows. Tickets are $30 advanced/$40 at the door.
Whiskey & wings? Why not? On Friday, July 13th from 6-8pm the event will feature a sampling of  20 different single malt, blended and designer whiskeys with wings available for purchase & pairing. $20 advaned/$30 at the door.
If you'd like to make a weekend of it, camping is available for the weekend in several different packages. You'll be on the Apple River, so tubing might be a nice daytime option as well.
Visit the Boarder Battle website for tickets and complete information.