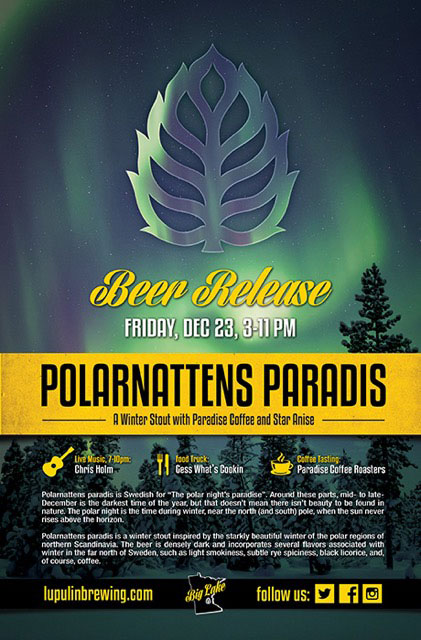 Lupulin Brewing is excited to announce the release of its latest special release beer, Pola rnattens paradis, to celebrate winter, the solstice and the polar night. Its incorporation of
Paradise Roasters' Espresso Nuevo and Aged Sumatra Peaberry is also a celebration of the wonderful coffee coming out of their boutique roastery in nearby Ramsey, MN.
The beer release will be a special Friday night celebration on December 23, 2016 from 3-11 pm with music from 7-10pm by Chris Holm, food from Gess What's Cookin' food truck, as well as free Paradise Roasters' coffee samples from 4-6 pm. P olarnattens paradis will be available on draft
in the taproom, in 750ml-bottles in the taproom and liquor stores, as well as at several bars and restaurants.
Polarnattens paradis (Swedish: "The polar night's paradise") Around these parts, mid- to late-December is the darkest time of the year, but that doesn't mean there isn't
beauty to be found in nature. The polar night is the time during winter, near the north (and south) pole, when the sun never rises above the horizon . Polarnattens paradis is a winter stout inspired by the starkly beautiful winter of the polar regions of northern Scandinavia. The beer is densely dark and incorporates several flavors associated with winter in the far north of Sweden, such as light smokiness, subtle rye spiciness, black licorice, and, of course, coffee.