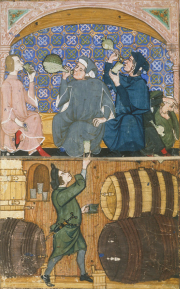 Theresa McCulla (beer historian at the Smithsonian Institution) will join Omar Ansari, founder and owner (Surly), Ben Smith, head brewer (Surly), brewermaster Jace Marti (Schell's), and author of Land of Amber Waters by Doug Hoverson to discuss the early history of beer in the US and in Minnesota, as well as to taste limited samples from early recipes.
Place: Surly Brooklyn Center Brewery
Date: October 19, 2019
Time: 3:30pm-5:15pm
Anyone interested in attending, will need to register beforehand: https://cspworld.dash.umn.edu/foodconference/registration/
Theresa McCulla will deliver a half hour talk on "Archiving Craft: Collecting American Beer's Recent Past and Present" detailing an initiative at the American Brewing History at the Smithsonian Institution's National Museum of American History constructing a new archive of American beer and brewing history. Emphasizing the twentieth-century stories of homebrewing and microbrewed—or "craft"—beer, this research and collecting initiative is assembling objects, documents, and oral histories to preserve the history of a contemporary phenomenon, especially surrounding ephemeral experiences of consumption and taste. This talk will outline the history of the craft beer revolution, a revival of artisan brewing techniques and styles whose impact has rippled across social, economic, and gastronomic realms. It will also present new research on early homebrewing clubs, computing clubs, and the entrepreneurial and intellectual "ferment" of northern California in the 1970s.
Following Dr. McCulla's talk, Omar Ansari, founder and owner of Surly will join Ben Smith (head brewer at Surly), Jace Marti (brewmaster at Schell's), and Doug Hoverson, author of Land of Amber Waters: The History of Brewing in Minnesota for a panel discussion on beer, brewing and brewers, yesterday and today.
Surly and Schell's Brewery will be brewing small batches of "historical" beers from recipes in the University of Minnesota archives.
This event is part of the Premodern Food Cultures conference organized by the Center for Medieval Studies, the James Ford Bell Library, and the Wangensteen Historical Library of Biology and Medicine. For more information, see: https://cspworld.dash.umn.edu/foodconference/
Theresa McCulla, Ph.D., is Curator of the American Brewing History Initiative at the Smithsonian Institution's National Museum of American History, where is she building an archive of the history of homebrewing and craft beer in the United States. Previously, she worked for Harvard University Library, Harvard University Dining Services, and the Central Intelligence Agency. McCulla earned a PhD in American Studies and an MA in History from Harvard University, a Culinary Arts Diploma from the Cambridge School of Culinary Arts, and a BA in Romance Languages from Harvard College. She is writing a book (under contract with the University of Chicago Press) about the history of food and race in New Orleans.