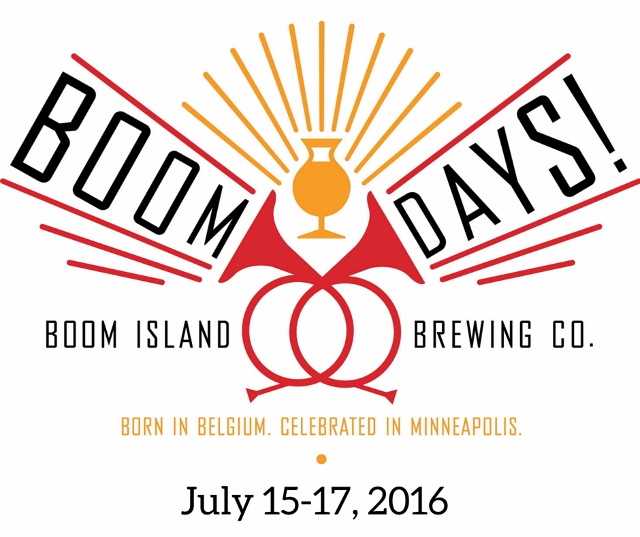 BOOM ISLAND TO HOST 3RD ANNUAL BOOM DAYS BLOWOUT JULY 15-17
A Summer Celebration of Cuvée de Boom, Music, Food and the Home Brewer
Schedule of events for Saturday, July 16th:
11:00am: MN Brewery Running Series begins and ends at Boom Island Brewing Company. For information and to sign up, go to http://www.breweryrunningseries.com/
1:00pm: Boom Room opens/ Nate Dogs and Betty Danger's Food Truck on site.
Full slate of bands will perform on outdoor stage, including:
1:30pm: The Above Average Tuba Quartet
3:00pm: Crossing Guards, featuring Martin Devaney
5:00pm: The Bill Patten Trio
6:30pm: Phantom Tails
8:00pm: Eleganza!
In addition to the availability of the Cuvée de Boom, on Saturday from 1:00pm to 4:00pm, there will be a special beer release every hour. The following beers will made available for a one-hour window only, while the very limited supply lasts:
1:00pm: Last year's Home Brew Competition winner, JD Park, will be pouring his prize winning Saison.
2:00pm: Triple Brett, a 7% ABV American Wild Ale, fermented with 3 different strains of Brettanomyces yeast.
3:00pm: Oude Funk: A rare, funky and complex ale consisting of a blend of 3-year, 2-year and 1-year old vintages of barrel aged and spontaneously fermented beer.
4:00pm: Oude Funk with Cherries: An extremely limited supply of the wildly popular marriage of the Oude Funk and locally grown cherries.