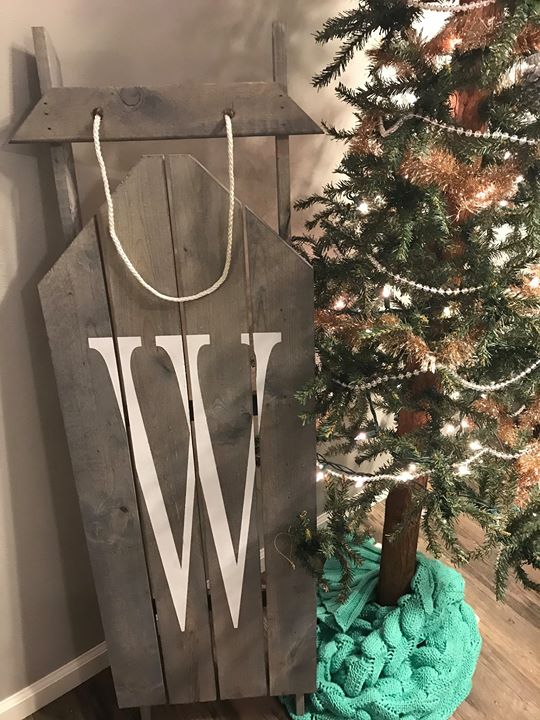 To attend this event you will need to purchase your ticket at least 48 hours in advance. All ticket purchases after the 48 hour mark will be subject to a $10 late charge (this will be factored into the ticket cost) and they not be able to choose their sled color (one will be chosen for you). Tickets for this event cost $65 and include all your materials and a $5 drink voucher. There are also options for add-ons available for an extra charge.
Included in your ticket price is the sled, the rope for the sled, a personalized monogram, all supplies needed and a $5 drink voucher. We have add-ons available for this class (photos of each additional add on can be see in the pinned post)
A) To add your last name (in a script font) it will cost $5
B) To add your "Established" date it will cost $5
When purchasing the add-ons you will need to purchase each separately under the tickets section of the event. Please call or text 218-457-0899 with any questions.
Our painting parties are a fun and relaxing way to spend time with those you care about. All while expressing yourself in a creative way! Don't worry about setting up, getting supplies, or cleaning up! We do all of that for you! We supply everything you need, including step by step instructions. All you need to do is bring yourself and your friends. We will provide aprons for you, but you should consider wearing clothes you don't mind getting paint on. Oh, and one other thing… Be ready to paint!
We will be starting at 6:30pm. It is advised that you arrive at least 15 minutes early (this is to register, pick your seats, and get something to drink before we get started). If you would like to eat something you should come at least an hour early. Trying to eat and paint always ends with cold food or ketchup on your masterpiece.
What to expect at one of our events: Before we begin painting, there will be a short period of time to visit, get refreshments, and find your seats. We start painting at the posted time. Any one who is late will have to get caught up on their own. There will be at least one half hour drying break within the class. This is when you can get refills, use the restroom, or anything else you may need to do. While painting you will not only receive step by step instructions, you will get additional assistance with techniques, brush strokes, and color mixing. At the end of class you will bring your artwork home with you!