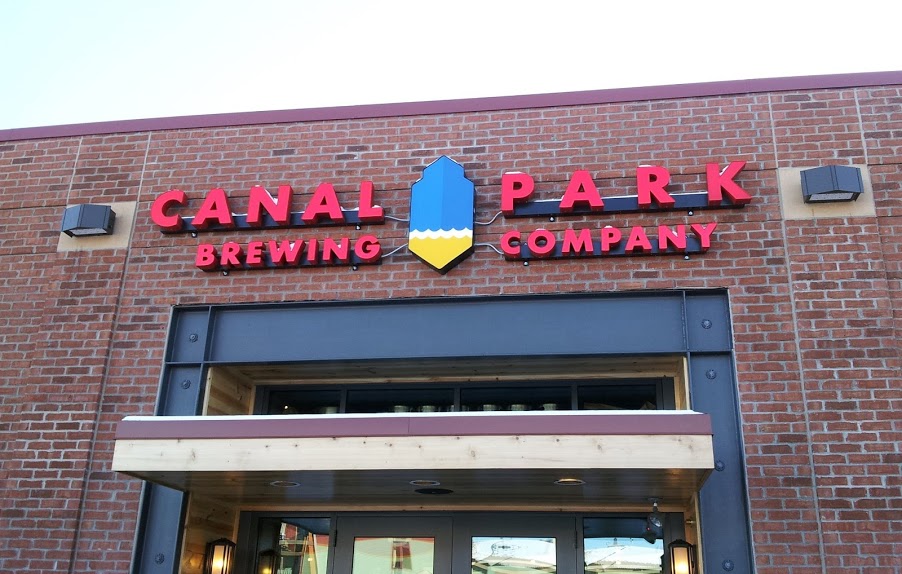 "Leaf springs for Zambonis!"
So replied developer and co-owner, Rocky Kavajecz, when asked what sort of business operated in the space Canal Park Brewing Co. now occupies. The building is unmistakable; the shining silver malt silo standing near the entrance of Canal Park in Duluth.  It's all brand new – but the funny thing is, it looks like it's always been there.
This, of course, is not the case.  The industrial past of Canal Park remains most evident in the architecture but was also evident in the site the brewery now occupies. Years of manufacturing had left the site unfit for use.  Seeing the opportunity to improve what was the last remaining waterfront lot in the area, the founders of Canal Park Brewing chose to remediate the site. Contaminated soil and, according to brewer Badger Colish, "mostly old Model-T batteries" were removed and replaced with clean fill, bringing conditions up to standards and giving them a blank slate to build upon.
With construction underway, Canal Park partnered with marketing firm Joyce.is of Minneapolis to build their "Northcoaster" brand through an interactive web presence. The site was a success. That energy transferred to designing merchandise and unique features in the brewhouse as construction neared completion.  As so many brewers in Minnesota have learned, setting an actual date for opening is a fool's errand; it will happen, though almost certainly later than expected.  Hopes for a summer opening fell by the wayside, as did those for fall.  Finally, in December, the brewery was open for business.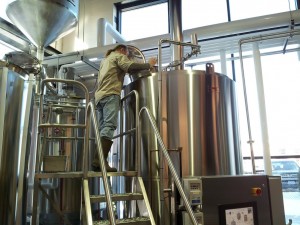 Patience and attention to detail have rewarded Canal Park a facility designed for efficiency and for the future.  Head Brewer Dan Aagenes and Badger began planning in 2009 and designed the system to brew 15 bbl batches on 20 bbl equipment and to maximize rapid heating and cooling while conserving energy and time.  Badger gushed with pride demonstrating the digital interface that controls the brewing process and then guided me underneath the sinew of pipes that transfer the finished product from fermenters to the eight 15 bbl serving tanks behind the bar.  There, a complex gas regulation system carbonates the beer precisely to the style standards and brings it to the taps.  It's a marvel of precision and it's exactly what you'd expect if you gave a couple of beer professionals a few years to design their dream system.
Since opening, the brewery and restaurant have been running tirelessly, attracting a host of regulars, including brewery advocate (and clandestine fan of Korean hip-hop) Duluth Mayor Don Ness. That crowd is bound to grow once the warm weather brings an open patio, live music and tourist traffic. The fan-favorite brew, without question, has been their Stoned Surf IPA, which was disappearing at the rate of a barrel a day in the first month of operation.
The brewery has garnered attention industry-wide as well. Jeff Bagby of Oceanside, CA is opening a brewery utilizing similar equipment and recently made an informational visit to see the Canal Park setup in action.  If there is any true benchmark for quality, being able to attract a Californian to Duluth in January must be it.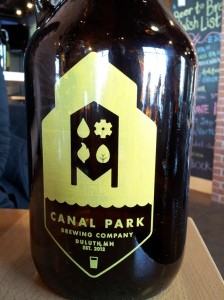 Millionaires per-capita? Those days in Duluth have long since passed. Who's to argue if Mayor Ness shot for the top breweries per-capita ratio?  Not me.  Do it, Don.  Quality will always be a regulator of just how many breweries can be supported, those who aren't worth their mettle, won't last. One needn't worry about camaraderie either, Badger spoke with reverence describing the community of breweries as a "brotherhood" and added "We all wouldn't be here if it weren't for Dave (Hoops, Master Brewer at Fitger's Brewhouse)".
At this point, there should be little discussion of brewers wanting to "make" Duluth a destination for beer fans.  Clearly, Duluth is a destination. Each brewer's unique personality adds to the experience and raises the level of discourse for the area's brewing industry. Everyone at Canal Park Brewing is genuinely happy to be doing what they love in the place they belong. Make your way north post-haste to see what it means to be a Northcoaster and experience everything Canal Park Brewing and the breweries of Duluth have to offer.