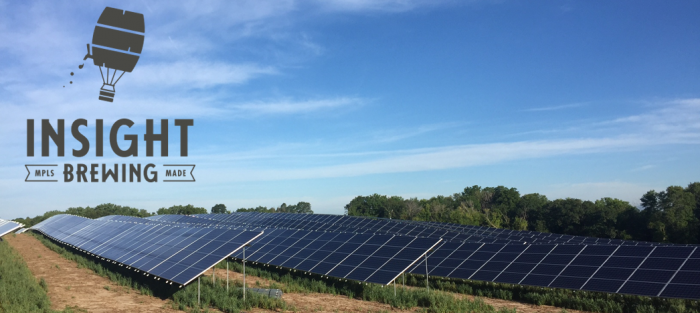 Great news from our friends at Insight Brewing Company: in 2017, Insight will become Minnesota's first brewery to offset 120% of its energy usage with solar power.
The brewery is partnering with Innovative Power Systems to build a community solar garden in Carver County this summer. Insight will make use of nearly half of the energy output of the solar garden, offsetting 120% of the brewery's energy needs for 2017.
Why is this cool? The process of brewing beer is energy intensive. Breweries use a lot of energy, be it boiling water, running coolers, forklifts, etc. Insight's efforts to offset their energy use should be commended.
We at Insight feel an obligation to be stewards of the environment and continually find ways to reduce both water and energy usage as well as finding ways to become a greener company, overall. At a time when it seems our new government will soon be taking a step back in energy and environmental policies, it feels like there is no better time to move forward with this initiative so that we as a community, state, country, and world, don't lose the positive momentum we currently have towards curbing global warming and creating a greener, more sustainable future.