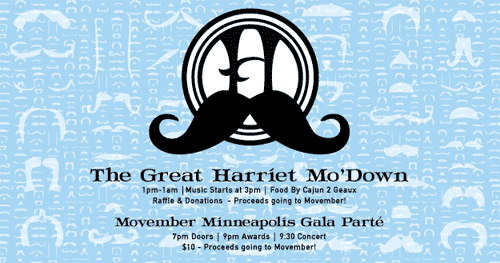 Great response for this event last year! Please consider checking it out this year as well!
What: The Great Harriet Mo'Down! Movember Minneapolis Gala Parté
Where: Harriet Brewing, Minneapolis, MN
When: Saturday, November 30 – 1pm-1am (Gala Parté doors begin at 7:00 pm)
Who: Open to the public, free from 1p-7pm, 21+ beginning at 7pm with cover
Why: Moustaches are awesome and they should be celebrated in grand Harriet Brewing fashion to support Movember
Throughout the day, come by for concerts from Mill City Hot Club & Joel Shapira. Bring in your cash donations to add to the Movember Foundation general fund. Raffle tickets will be available for purchase all day leading up to the 9:00 pm Awards Ceremony (Entrants do not need to be present to win).
Movember Gala Partés are exhibitions of nature's finest bounty; the moustache. Held around the US and the world, the infamous costume party extravaganzas offer Mo Bros and Mo Sistas the opportunity to come together to showcase their hairy achievement and celebrate a month of hard work and dedication. It's also our chance to say thank you to the Mo Community for their collective fundraising and awareness efforts.
Dress in costume to suit your Mo or Mo Bro and come celebrate the wild nights and hairy days of Movember at this year's Minneapolis Gala Parté on Saturday, Movember 30th at Harriet Brewing. Doors for the Gala Parté open at 7:00 PM CDT with tickets available for $10. Proceeds going to Movember! Live Jazz Combo from 7-9pm.
Gala Parté judging will take place from 8:00 PM – 9:00 PM…don't be late or you'll miss out!  Show off your costume and battle for one of the coveted titles of:
Ultimate Mo – A Mo Bro judged purely on the intricate grooming and styling of his Mo. A good outfit helps too!
Lame Mo – An encouragement award given to our "Facial Folically Challenged" Brethren.
Team Mo – The team to have the best moustache and outfit combination.
Mo Bro & Mo Sista – The best dressed couple.
Best Mo in Character – A Mo Bro dressed in character.
Miss Movember – The Mo Sista judged to have the best costume and full of Movember spirit.
Man of Movember – The ultimate accolade, the man with the best embodies Movember, Mo and all!
Following the Mo Awards at 9:00 PM, rock out to the musical styling's of Saint Anyway and TBD.
Drinks will be tap room prices and food will be available for purchase at the venue via Cajun 2 Geaux food truck.
Parking is available in massive parking lot to the Southside of the brewery. Venue is also conveniently located on the Metro Transit 7 Bus Line and a block from the Lake Street Light Rail stop.
RSVP for the event on the Minneapolis Movember Facebook page! Facebook.com/MovemberMinneapolis