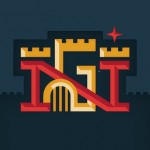 What a good week for beer in the Twin Cities. If the opening of taprooms for both 612 Brew and Steel Toe isn't enough, Northgate Brewing has announced that they'll open their brewery  for growler sales on Saturday, Febrary 16 from 2-6pm. Head to Northeast Minneapolis and grab your own growler of Northgate's flagship beer, Wall's End English Brown Ale.
"We're extremely happy to open up our brewery to the local craft beer community," said Northgate Brewing co-founder Adam Sjogren. "When you stop by for a growler, you'll be walking right into our production brewery, and we're always happy to talk about how our beer is made."
Northgate Brewing,  3134 California St NE, Minneapolis, MN 55418
Beer Description:
Wall's End is a smooth Northern English Brown Ale that is refreshing enough for summer drinking and substantive enough for bitter Minnesota winters. Wall's End is malt-focused, English-hopped and highly sessionable at 4.8% ABV. Growlers of Wall's End will be available for $12 after a $5 container deposit. Growlers of additional Northgate Brewing beers will be available in the near future.