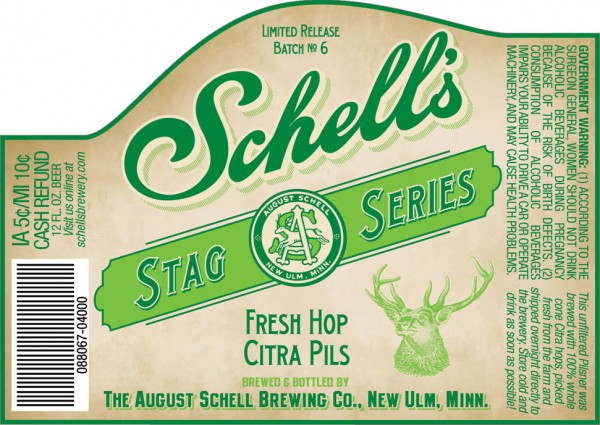 Some nice news from New Ulm. Mike, one of our contributors, caught wind of one (or both) of these after the Schell's beer dinner a couple of weeks ago. Glad to see more details, even if it's just label art!
If you watch Beerpulse with any regularity (Thanks, Adam), you might have noticed that Schell's Stag Series No. 6 is Fresh Hop Citra Pils. This beer will be an unfiltered pilsner, dry-hopped with freshly-picked Citra hops. More info on specifics and release to come shortly!
This unfiltered Pilsner was brewed with 100% while cone Citra hops, picked fresh from the farm and shipped overnight directly to the brewery.
Update: Schell's has 750 pounds of Citra hops ordered, with an expected harvest date the week of September 14th. The hops will be picked, packed wet, and shipped overnight to the brewery and brewed with as soon as they arrive.
The malt bill is fairly simple, Pinnacle 2-row malt and a decoction mash. There will be four separate additions of Citras including a huge addition in the whirlpool to let the hops shine through in the beer.
5.0% ABV, 45 IBU's  mid to late October release (depending on the harvest).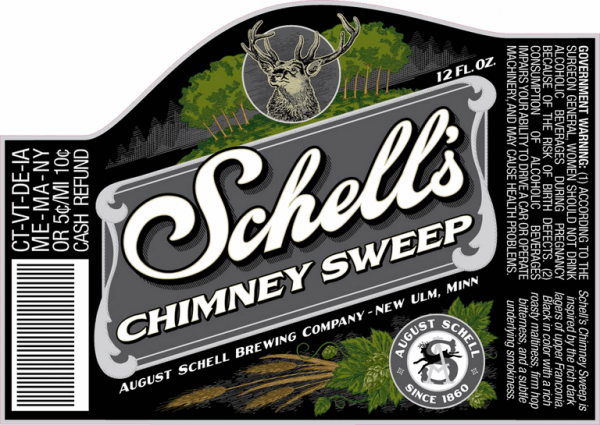 Also on deck at Schell's is Chimney Sweep, a Franconian Dark Lager. Again, more details as we get them. From the label:
Schell's Chimney Sweep is inspired by the rich dark lagers of upper Franconia. Black in color with a rich roasty maltiness, firm hop bitterness, and a subtle underlying smokiness.
Update: Here are some more details with Chimney Sweep. This beer will be the first part of a duo of beers that will replace Stout in Schell's year-round line-up of specialty beers. It will be available November through March and then from April to September, another yet-unnamed beer will take its place (Nope! Not the Radler.)
The inspiration for Chimney Sweep comes from the rich dark lagers of Franconia. The idea for the beer is a full-bodied, yet sessionable black lager with a wisp of smokiness. It will have a rich roasty malt body with notes of bittersweet chocolate and coffee. It will have a sturdy hop bitterness and a subtle smokiness for balance and depth. From what I gather it defies style, featuring he rich malty body of a Franconian dunkel, the roastiness and color of a Schwarzbier and a subtle smokiness, though it'd decidedly not a rauchbier, either.
31 IBUs
5.2% abv, and 48 srm ( black). Cheers!