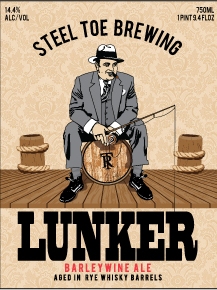 Steel Toe Brewing is set to release their Barleywine, Lunker tomorrow at 5:30 at the brewery. Lunker is a 14.4% English Barleywine aged in Templeton Rye Whiskey barrels. As the story goes, the whiskey produced in Templeton, IA was said to be Al Capone's favorite spirit. You can read more about the distillery and the rye produced in Templeton over at Heavy Table.
Lunker was aged in Templeton barrels for 5+ months. If you had a chance to try this during The Beer Dabbler Showcase at the Winter Carnival, you'll find this to be a different beer, thanks to time and barrel aging. And at 14+%, this is a beer you can age should you choose to do so.
Four bottle limit, $20/bottle (tax included). Cash or credit card.
No tours or Lunker samples Friday. Enjoy!