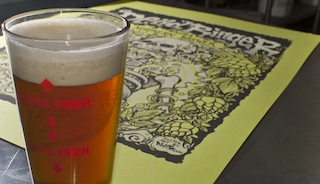 It's art for beer's sake! Join the crew at Northern Brewer Minneapolis this Sunday (April 15th from 11-4pm) as they honor one of their most popular homebrew beer kits, Dead Ringer IPA.
NB has teamed up with acclaimed poster artist DWITT to create this badass poster for a most badass beer. DWITT is known locally in the beer scene for his work with Surly, Summit, and Flat Earth Brewing Companies.
There are only 50 of these posters available! Printed on hop green paper with beautifully illustrated hops, vines, skeletons, and hazy smoke. Signed and editioned by the man himself, they're selling for a mere $35. $10 off if you buy a Dead Ringer beer kit.