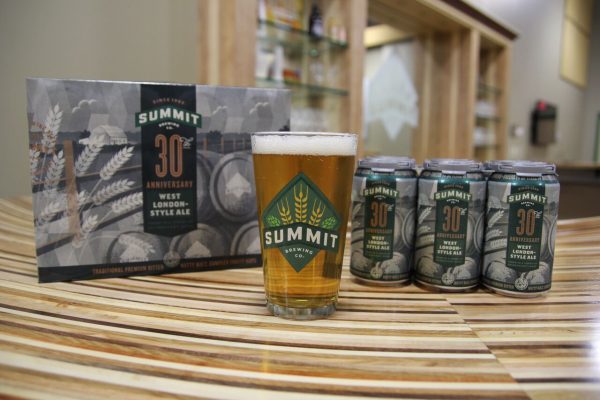 Well this doesn't suck. Our friends at Summit Brewing Company have announced the third beer in their 30th Anniversary Series: West London-Style Ale. Come celebrate with Summit on Sunday from 10am-4pm at Brit's Pub in Minneapolis if you'd like to toss this beer down your gullet before anyone else gets a chance to do so. They'll also have a smattering of other Summit offerings and lie music from Freddie Manton & The Southsiders and Hard Day's Night Beatles Tribute Band.
If you can't make the event, look for West London-Style Ale on tap and in six- and 12-packs of cans the second week of August.
Beer details? Okay. Brewer Damian McConn dreamed up a British-Style Best Bitter making use of the classic Maris Otter malt (Crisp? Simpson's?) with some traditional and more modern hop varieties, Endeavour (UK), Cascade (US) and Motueka (New Zeland). The fine folks at summit describe the beer as "medium-bodied with toasty, graham cracker malt flavors, complemented with hop flavors and aromas of loganberry, redcurrant, grapefruit and lime." Sold. I'll drink some.
"The 30th Anniversary Series showcases the unique qualities and attributes that have helped drive Summit forward over the last three decades," said McConn. "We kicked off the series early in the year with a powerful Double IPA, followed up in late spring with a classical German Keller Pils, and now we're staying across the pond as we enter August with a thirst-quenching session ale packed with flavor. West London-Style Ale presents complexity, character and drinkability in a low ABV beer with an assertive hop profile that doesn't overwhelm beer lovers."
West London-Style Ale Deets:
ABV: 4.6%
IBU: 40
Color: Light Amber
Malts: Maris Otter
Hops: U.K. Endeavour, U.S. Cascade, New Zealand Motueka
Yeast: Multi-strain yeast comprised of private collection U.K. ale strains formerly utilized by an old British Brewery
Food Pairings: Cotswold cheese, traditional fish and chips, ploughman's lunch, Cornish pasty, roast beef, Cumberland sausages