Bauhaus is teaming up with Revival to bring a taste of the south to US Bank Stadium this fall in the form of a beer called Slawhammer—a Kentucky Common Style Ale. Matt Schwandt who is the President and head brewer at Bauhaus spent some time living down in Nashville and was excited to work with Revival on this beer which will also be featured at their restaurants. "When I lived in Nashville, I learned that there are really only two beverage options for Tennessee hot chicken: sweet tea or a cold beer. So we figured, why not marry those ideas" he says.
Kentucky Common Style Ales were brewed pre-prohibition and they were  popular in that region of the country. They were also cheaper than other styles being sold in and around Kentucky during that time period, sometimes selling for half the cost of other varieties such as Stock Ale.
The Bauhaus version will have some citrus and black tea notes from the hops that were used in the brewing process. It's extremely drinkable at 4.8 % ABV and should pair nicely with that phenomenal chicken sandwich offered at the stadium.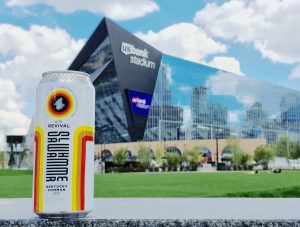 Nick Rancone who is a co-owner of Revival was happy to align with Bauhaus due to the product they put out, and their similar values. "We are thrilled about the partnership. Revival is all about tradition and modernity, and that is the same way we view Bauhaus. It's so important to align with people that you respect and adore, and share values with, and it was most excellent that this collaboration came to fruition in the way that it did. We couldn't have asked for a better partner" says Rancone.
Look for this beer to debut at US Bank Stadium in 16 oz. cans on August 10th, and on tap at The Revival/Corner Table family of restaurants in the Twin Cities in the following weeks.
Cheers!