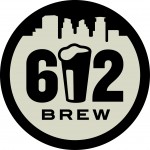 In case you didn't get a chance to check out 612Brew this past two weekends at Winterfest and The Beer Dabbler, Thursday is your day… they're throwing  a release party on February 7 at 7pm at The Pourhouse in Minneapolis. The launch party ncludes all four of 612Brew's initial offerings including Zero Hour, which will normally be exclusive to the soon-to-open 612Brew taproom.
And if beer isn't enough,  The Pourhouse will host "bandaoke," a karaoke program with a live band starting at 10pm. We hear the 612 fellas like to sing!
Rated R: West Coast IPA meets Midwest Rye. Rated R is a beer for the Minnesota hopheads. This Rye IPA greets you with a burst of citrus hop aroma and tempts you with the spice from the rye. Rated R is 612Brew's most full-bodied and hoppy beer, yet easy enough that your mom would like it. If your mom is awesome.

SIX: SIX is a golden-colored, American pale ale flavorful enough for craft beer fans and approachable enough to be your everyday beer. SIX is light-bodied and biscuit-flavored with a light hop aroma. It is named after the local bus number that runs past the original 612Brew test brewery, where the beer was first brewed. It's also the first number of the company name, but you probably noticed that. We think it's perfect for back yards, front porches and the Minnesota seasons. We think you'll want to drink this beer any time … all the time.

Bitter Cold Winter IPA Series #1: The first in the winter series of single malt and single-hop India Pale Ale's brewed to showcase the individual characters of the ingredients. Brewed with 100% Marris Otter and 100% single hop direct from Willamette Valley Hops

Zero Hour: Excitement is in the mystery. Zero Hour is a black ale, aggressively hopped and blacked out with Midnight Wheat. You may wonder what style of beer you're drinking; well, turn off the lights and savor the experience.