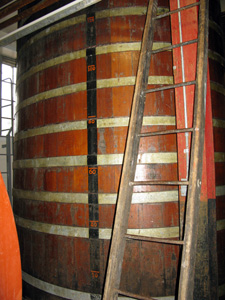 Here's the news that Jace at Schell's has been threatening to share for the past couple of days. TL:DR – Schell's is launching a line of specialty beers called the Noble Star Collection based on the Berliner Weiss style. What's more, they'll be using their remaining 30s era cypress wood aging tanks. I visited the brewery in 2006 or 2007 with the Minnesota Craft Brewers Guild and remember checking out these huge wood tanks and always thought they'd be a nice home for beer again someday.  Read on for the complete press release from Schell's.
Here's our 2008 article on the tank restoration.
More photos and complete details after the jump.