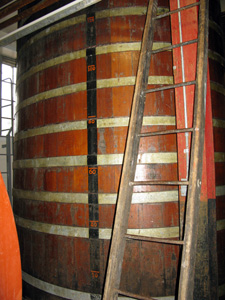 Here's the news that Jace at Schell's has been threatening to share for the past couple of days. TL:DR – Schell's is launching a line of specialty beers called the Noble Star Collection based on the Berliner Weiss style. What's more, they'll be using their remaining 30s era cypress wood aging tanks. I visited the brewery in 2006 or 2007 with the Minnesota Craft Brewers Guild and remember checking out these huge wood tanks and always thought they'd be a nice home for beer again someday.  Read on for the complete press release from Schell's.
Here's our 2008 article on the tank restoration.
More photos and complete details after the jump.
Introducing the Noble Star Collection
New Ulm, MN. February 26, 2013 – August Schell Brewing Company is set to release "The Star of the North" this summer—the first in a lineup of specialty beers called The Noble Star Collection.
Envisioned by Brewmaster Jace Marti, The Noble Star Collection will showcase unique and innovative beers based on the Berliner Weisse style. This traditional German style beer is nearly extinct, but a natural fit for the August Schell Brewing Company which prides itself on brewing using traditional methods. A Berliner Weisse is tart and effervescent, produced via a mixed fermentation of yeast, lactic acid bacteria and brettanomyces, with the latter two being authentic strains imported directly from Berlin. The beer will undergo a long, slow secondary fermentation in a cypress wood tank, where the porous nature of the wood will allow the defining characteristics of the beer to develop. All the beers will be bottle-conditioned in hand-filled cork and caged champagne bottles, where the flavors will continue to develop and evolve over time.
Marti used a special piece of Schell's history to create The Noble Star Collection. In 1936, just three years after prohibition ended, the Schell's brewery expanded to keep up with demand. With the expansion came a new lagering cellar and 10 new 140-barrel cypress wood lagering tanks built by Dunk Tank Works in Milwaukee, Wisconsin. The tanks were constructed with two-inch thick wooden staves that were hand-cut from old growth, southern Cypress trees.
Prized for their extremely dense grain and neutral flavor contribution, these tanks were then lined with pitch to prevent the beer from contacting the wood. For the next 55 years, these tanks yielded countless barrels of Schell's beer before being retired in 1991. Two years later, eight of the cypress tanks were removed from the cellar and replaced with modern, stainless steel tanks. The two remaining tanks sat dormant until 2008, when extensive restoration work began in an attempt to revive one of them. Five years later, the tank is ready to once again hold Schell's beer, though this time in an entirely new way.
The Star of the North will be available this summer in 750ml bottles.