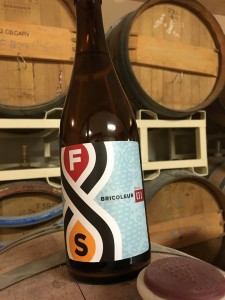 Bricoleur: One who engages in bricolage.
The folks over at Fair State Brewing are getting themselves into a great number of experiments over at their space on Central Avenue in Northeast. The latest, a series of sours that include Saccharomyces, Lactobacillus, and Brettanomyces in the same stainless steel kettle. The naming convention will be the same with a separate batch number attached to each release. Each batch will have a similar pH level with the goal being to see just how American hops interact with the yeast and bacteria.
Batch number one was kettle soured initially with Brett being introduced during secondary fermentation. Niko Tonks who heads up the brewing operations seems excited to be releasing batch number one. "This was sitting for about 7 weeks before bottling. These beers will never see oak [never spend time in wooden barrels]. We want to let the Brett chew on all of those sugars."
The beer smacks you in the mouth with bursts of pineapple and other tropical fruits and finishes very dry. Caleb Levar is the assistant brewer and he explains that a lot of the tropical flavors come from the Brett and how it works with the hops in the brew, especially the Nelson Sauvin variety. "I'm quite enamored with this beer" he says.
Where can you find this? Well, it will be on draft at the taproom and limited at other locations, but will also be available in bottles at the taproom ($15 each and no limit) beginning at 4:00 pm this Thursday, January 28th. They filled 1,550 bottles in total and whatever doesn't sell at the taproom will be distributed to liquor stores. "We're really happy to be pushing this stuff out to liquor stores" says Tonks. Niko also mentioned that they will be pouring this one at Winterfest which is coming up on February 26th and 27th.
You'll probably want to grab one to enjoy now and one to save for later. "I'm always a proponent of drinking these beers right away, but this one will change over time" says Levar.
Bricoleur #1
18 IBUs
5.3 % ABV
3.65 pH
Hops used: Citra, Equinox, and Nelson Sauvin
Cheers!