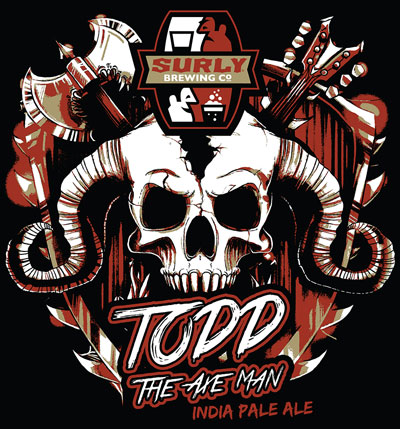 He doesn't really look much like Lee Marvin, does he? In any case, next week our friends at Surly Brewing Company will be add a new canned beer to their lineup – Todd The Axe Man. Todd The Axe Man is a West Coast IPA brewed with Golden Promise malt and plenty of Citra and Mosaic hops. Dare I say it's a tasty IPA? It has been a favorite in the Surly Beer Hall and now you'll be able to find it in cans across Minnesota, Iowa, Wisconsin and Chicago starting next week.
Todd The Axe Man was first brewed as collaboration with
Amager Brgyhus
in Denmark in 2014. Amager chose the name in honor of Todd's other gig as a (musical) axe-slinger. Perhaps
Powermad
rings a bell?