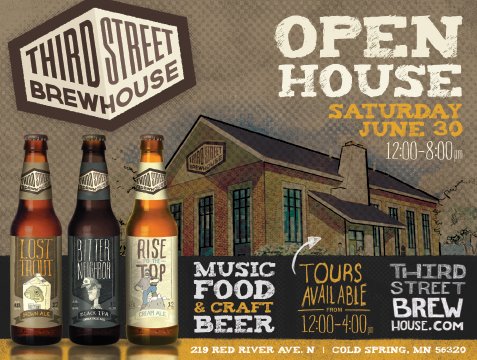 Saturday, Saturday, Saturday! Tomorrow (6/30) Third Street Brewhouse marks its launch with an open house at the brewery from 12 noon – 8pm, with tours available from 12-4pm. Music, food, beer, prizes… sound good?
If you've been hiding under a rock over the course of the past year or so, Third Street Brewhouse is a brand-spanking new brewery launched by Cold Spring Brewing Co. The brewery brought former Summit & Terrapin brewmaster on board, assistant brewmaster Bob McKenzie (Rock Bottom, Granite City, Sherlock's Home) and a handful of seasoned brewers whose histories include time at Minneapolis Town Hall Brewery, McCann's, O'Hara's, and Cold Spring.
Check them out. I've enjoyed their beer thus far!