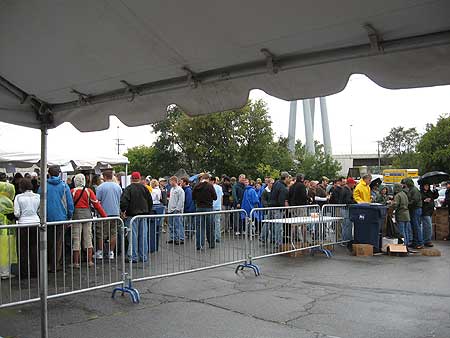 By Jeremy Zoss
The 16th annual Autumn Brew Review will be held this Saturday, September 17th at the Historic Grain Belt Brewery. Autumn Brew Review (ABR) is one of the largest and oldest beer festivals of the state, and for serious craft beer fans it is considered one of the most important beer events of the year. This guide will help you prepare for the event and maximize your beer-tasting enjoyment.
About Autumn Brew Review
Autumn Brew Review is the largest and longest-running craft beer festival organized by the Minnesota Craft Brewer's Guild. The non-profit outdoor festival feature unlimited beer tastings from local and national craft breweries, as well as a few ciders, wines, and non-alcoholic samples. Each visitor receives a commemorative tasting glass and guide, and can also enjoy games, food vendors on-site, beer educational sessions and more.
About the Minnesota Craft Brewer's Guild
The Minnesota Craft Brewer's Guild is a trade group for Minnesota breweries. Most Minnesota breweries are members, but not all. The Guild works to promote Minnesota craft beer and to educate consumers about the great beer made in Minnesota. In addition to Autumn Brew Review, the Guild organizes events like Winterfest, All Pints North and the Land of 10,000 Beers exhibit at the Minnesota State Fair.
The Breweries
This year, 135 breweries will be participating in ABR. The list includes established locals like August Schell Brewing Company, Dangerous Man, Fulton, Indeed, Summit, Surly, Town Hall Brewery, and many more. ABR is also a great place to sample beers from some of the state's younger breweries, including Bald Man Brewing, Disgruntled Brewing, Roundhouse Brewing, Wayzata Brew Works, and other breweries in their first few years of operation.
Of course, not all the breweries at ABR are local. Many heavy-hitting national breweries will participate as well, including Alaskan Brewing Co., Deschutes, Evil Twin, New Belgium, Oscar Blues, Sam Adams, Stone, and more. ABR often serves as the launching pad for national breweries entering the Minnesota market for the first time, and this year is no exception. For many visitors, ABR will be their first exposure to national breweries like California's Alpine Beer Co., Michigan's Arcadia Ales, and the Colorado Saison specialists Funkwerks.
The Beer
ABR is more than an excuse to drink large quantities of beer – it's about quality, too. No matter your tastes, make sure you seek out some hard-to-find brews in your favorite styles. Here are a few of the rare brews this writer hopes to sample at the festival:
August Schell's – Harmony of Spheres, Orbital Drift, and Tidal Disruption Weissbiers
Bent Paddle – Double Shot Double Black American Black Ale
Dangerous Man – Imperial Chocolate Milk Stout
Evil Twin – 2014 From Amager With Love Imperial Stout
Funkwerks – Multiple saisons
New Belgium – 2016 Le Terrior American Wild Ale
Prairie Artisan Ales – Prairie Bomb! Imperial Stout
Surly – Barrel-aged Pentagram, Vanilla Oak Aged Darkness, One, Two, Three Anniversary Ales
Toppling Goliath – King Sue Imperial IPA
Preparation and Tips
Here's some advice to help you maximize your enjoyment of ABR:
Here's the most important advice of all: make sure you have arranged a sober driver to pick you up after the event! If you can't try to travel via public transportation.
In advance, make yourself a pretzel necklace. Lace several dozen pretzels on some string to wear around your neck. There will be plenty of food available to purchase at the event, but eating a pretzel between beers will not only keep you from getting too intoxicated, it will help reset your palate between samples.
ABR has an app! Grab it from the Google Play store or the Apple App Store and use it to plan your visit.
Expect big crowds and long lines. ABR is a big festival, so you will have to wait in lines. You won't get a chance to try every beer you want, especially those tapping at specific times. Go with the flow, and don't sweat if you miss out on a hard-to-find beer.
Skip the standards. If you've had a beer before, don't ask for a pour. There is only so much time to drink, so focus on seeking out samples from breweries you haven't visited yet, or exciting new offerings from your favorites.
There's no shame in dumping beer on the ground. Drink every last drop and you'll be drunk before you know it. Take a few sips and pour the rest – unless of course it's too delicious to waste!
Drink plenty of water. There are rinse stations throughout the event for rinsing glassware, but the water is drinkable. Staying hydrated will keep your palate fresher and stave off intoxication.
Remember that festivals aren't a completely fair way to try beers for the first time. No matter how many pretzels you snack on or water you drink, your palate will be pretty shot by the end of the day. Just because a beer didn't stand out at ABR doesn't mean you won't love it later.
Don't be a dick. Even with long lines and big crowds of people who have been drinking for hours, ABR generally has a pretty chill vibe. Everyone there is united by the love of craft beer, so most visitors get along pretty well. Don't be the one that ruins the fun.