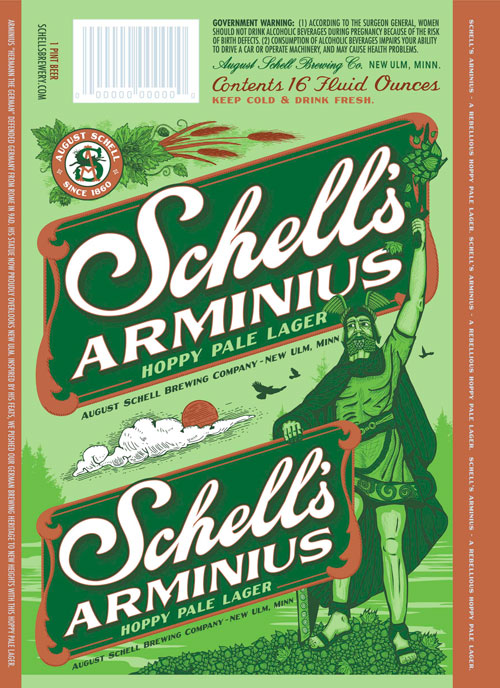 More fun news from our friends at August Schell Brewing Company in New Ulm. Last week you heard about new cans of their summer seasonal, Zommerfest, co-branded with 89.3 the current. This week, we're excited to share a couple of other new canned releases from Schell's.
Jace Marti tells us that there's a lot of construction going on at the brewery, and one of their big projects includes building a new filling room and replacing their old can filler, which they hope to have in production by April. One of the first new canned beers you'll see is a 16 oz. can of Schell's extended summer seasonal, Goosetown.
The next beer will be their newest release, Schell's Arminius. Arminius is the legendary Germanic chieftain better known around these parts as "Herman the German." Jace says that the beer will be a hoppy pale lager that combines the hop profile of a west-coast IPA with traditional lager brewing techniques. Malts will included Pilsner and Munich which should help to showcase a blend of German, French and American hops. Marti says that the hop varieties were chosen for their fruit and citrus flavor and aroma. You'll also notice a delicate floral, noble hop characteristic that we've come to expect with lagers. Jace says that they'll be adding massive amounds of hops late in the boil and whirlpool for smooth hop flavor and aroma. And in case that isn't enough hops for you, they'll double dry hop the beer for even more aroma. Look for this one year round on draft and in 4 packs of 16 oz. cans.
Schell's Arminius
Style: Hoppy Pale Lager
Malts: Pilsner, Munich, Carapils
Kettle Hops: Saphir, Strisselspalt, Cascade, Emerald
Dry Hops: Mandarina Bavaria, Saphir, Cascade
Stats: 16.4˚ Plato, 6.5% ABV, 70 IBU