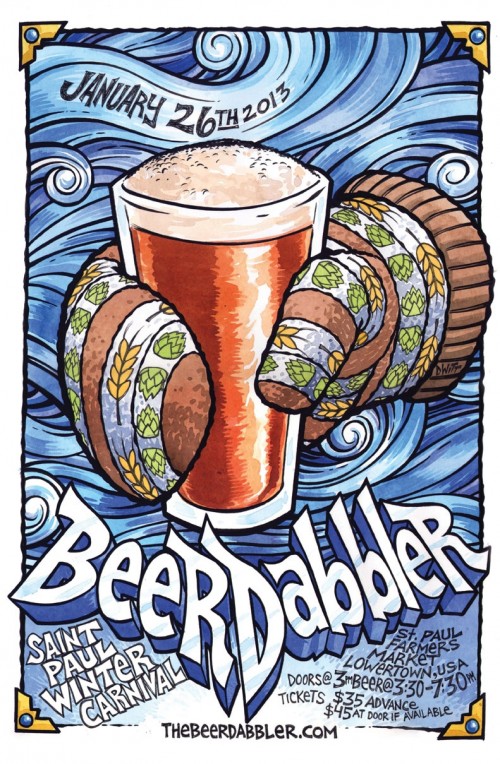 Hey beer nerds, now is the time to snap up your tickets for the Fourth Annual Beer Dabbler Winter Carnival. This year's event promises twice the breweries, stages and space than previous years, promising to be bigger and better than ever before. 100 breweries. 300+ beers. Good times for all!
Cool stuff includes:
Mayor Chris Coleman tapping the inaugural Oak Barrel Brew – this year's beer is to be a special release from Stone Brewing Company
New releases from various breweries
Live music on two stages from local bands including Koo Koo Kanga Roo, Bloodnstuff, The Chalice, and Heiruspecs
AHA/BJCP Certified Homebrew Contest presented by Northern Brewer
Lord Dabbler's Cup awarded to the best brewery as voted on by festival-goers
Hot food served by local gourmet food trucks including Gastrotruck, Natedogs, Potter's Pasties, and others
Lots of other cool shit.
Deets:
St. Paul Farmers Market, Lowertown
Saturday, Jan. 26, doors at 3 PM, beer 3:30 PM – 7:30 PM
TICKETS:
Tickets are $35 in advance or $45 at the door, if tickets remain on event day. Tickets are available now at thebeerdabbler.com and the following locations*:
The Beer Dabbler Store, 1095 W. 7th St., Saint Paul
The Ale Jail, 1787 Saint Clair Ave., Saint Paul
Thomas Liquors, 1941 Grand Ave., Saint Paul
Four Firkins, 5630 W. 36th St., St. Louis Park
*Ticket for sale at retail locations are CASH ONLY