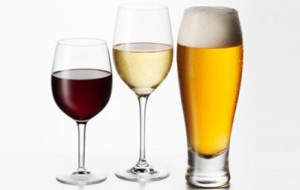 Grab your fatigues… er, well… Anyway, A Perfect Pint & Amusée are pairing up for three great sessions of "Beer and Wine Bootcamp." Given the hosts, Cocerone Michael Agnew and Sommelier Leslee Miller, this should be a fun time. Read on:
What happens when two of the Twin Cities finest Beer & Wine Experts come together?

Beer & Wine Bootcamp, that's what!

A one-of-a-kind, three-session, educational mini-series that lays down real knowledge with an approachable and entertaining tone. Certified Sommelier Leslee Miller of Amusée and Certified Cicerone Michael Agnew of A Perfect Pint have been complimented as two of the nation's most "down to earth" beer and wine educators.

Their depth of knowledge, easy rapport, and interactive style make these classes the perfect learning arena for every level of beer & wine drinker.

Beer and Wine Bootcamp is designed for those looking to expand their love and knowledge of these fabulous libations. Each two-hour session covers a different theme and includes 6-8 pours and small bites for pairing. They're great for a couples' date night or an outing with your favorite beer/wine besties.

The cost of each session is $40 per attendee.

These sessions can be purchased singly or bundled together as a comprehensive course.

Those who purchase all three classes will receive an Amusée & A Perfect Pint logoed 'Go Vino' Glass. (http://www.govinowine.com/)

Sign up fast, Space is limited as we are keeping these courses small for a more intimate learning experience!

Please email: leslee@amuseewine.com to sign up today

October 1, 2013 ~ Session #1: Wine/Beer Bootcamp ~ Learn the basics of these two libations with two of the Twin Cities' most passionate beer and wine educators, Sommelier Leslee and Cicerone Michael. From styles, regions, grape varietals to all the sensory perspectives of grains to grapes – Michael and Leslee introduce the basics of beer/wine in this introductory 2 hour course.

October 8, 2013 ~ Session #2: The Art of Pairing ~ Understand the basics of how to pair beer and wine to the world of food. Whether the dish is light and bright, salty and savory, or earthy and umami, you'll learn the time-tested tricks of correctly pairing the right libations to the right foods and gain an understanding of when the 'old school' rules need not apply. This class will set you on the path to creating those perfect 1+1=3 equations.

October 15, 2013 ~ Session #3: Sweet Retreat ~ All things sweet paired to beer/wine. Here's where the fun really kicks in! Think you can't pair beer to chocolate or sticky candies to wine? The secrets of a sommelier and cicerone are revealed as both Leslee and Michael share some of their favorite sweet bites paired to a number of tasty treats, teaching you how to duplicate these same sugar-coated combinations with your own libations at home.

Classes will be held at:

Casa Verde Design Studio * 911 W 50th St * Minneapolis, MN 55419

There is plenty of street parking available.