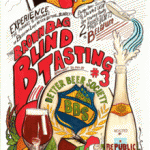 I took a little liberty with that title… In any case, Better Beer Society announced today that they will partner with Republic in MInneapolisfor the third edition of their Brown Bag Blind Tasting Events on September 22nd. As with other events in the series, BBS's goal is to "challenge and educate your palate" and expand your experience with beer via aroma, flavor and perhaps a little entertainment. Round 3 focuses upon the theme "A Trip to Belgium" and will include 25 special taps and bottles exploring the flavors of Belgium. The event will feature a panel of special guest speakers (just a guess, but perhaps a beer knight?!) as well Belgian style cuisine.
To add a little candi sugar to the pot, BBS has teamed up with Duvel USA to offer one lucky winner a chance to win two round-trip tickets to Belgium! Check out the ticket link for complete details and to read more about the event: http://www.brownpapertickets.com/event/264873
Buy your tickets early, this event will sell out! Tickets are $45.