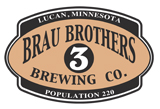 At 6pm on Thursday, August 24th, Woolley's Steakhouse in Bloomington is hosting a beer dinner featuring beer from Brau Brothers. $40 gets you a five course meal paired with some great Brau beers. Details below. 952.854.1010 for reservations.
Charcoal Grilled Oysters
Topped with a citrus butter
Bancreagie

Hearts of Romaine Salad
Served with candied bacon, heirloom tomato, poached quail egg and sherry vinaigrette
Sheep Head

Roasted Capon
Complimented with creamed greens, white bean cassoulet and sharp cheddar. Served with a Ring Neck ale biscuit.
The Ring Neck

Gorgonzola Crusted Beef Tenderloin
Slow roasted then finished with a gorgonzola crust. Served with fingerling potatoes and in a bing cherry compote.
Hop Session

Chocolate and Berry Duet
Tobago chocolate torte with nougatine center & Grilled pound cake topped with our bourbon berry medley
Moo Joos

Seating is limited to 35 guests, so act now! For more information or to secure your reservations for this fun event, please call Woolley's at 952.854.1010.