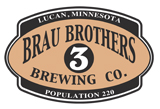 Looking for something fun to do this weekend? All the amateurs ditched town last weekend, but in truth, this is the weekend to head south to Lucan for Braufest with Brau Brothers Brewing Co. Check it out:
Friday (June 1)
Lucan Lions Beef BBQ from 5:30-8pm. Local beef, local beer.
Larry Donner performs at Brauhaus, 7:30pm.
Saturday (June 2)
Brewery open house from noon -8pm. Tour the brewery & hopyard, sample beer, set up camp (yes, you can camp at the brewery Friday & Saturday night), check out some special cask beer and enjoy live music, including our friends Cannery Row as well as Saturday Evening Smitty and Sound Outdoor.
Lucan Lions softball tournament all day in City Park. And to tie this into the theme, the beer wagon will be present all day!
Street dance at Brauhaus Saturday night from 9pm – 1am featuring Roxbury Drive and the aforementioned beer wagon.
Sunday (June 2)
Recover from a great day of beer with the Lucan Fireman Pancake Breakfast at the Community Center. 8:30am – noon.
Family Day at Lucan City Park – activities and events for all, softball tourney, volleyball, food and beer.