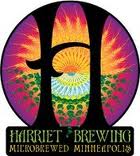 Sad news from Harriet Brewing – they'll be closing after January 31st, 2017. From their Facebook page:
Fellow Harriet Brewing Supporters,

Harriet Brewing will close after Jan 31, 2017. After 6 crazy years, it's time to move on. Development plans for our property do not align with Harriet; thus, we've been forced to relocate. After much contemplation, it has become apparent that Harriet can only exist in it's current location. Attempting to relocate and repeat would be lame. Relocating would require a new brand and business plan, and, frankly, starting another brewery now seems unoriginal and risky in this saturated market. Please join us in supporting the final chapter of Harriet Brewing during these next 3 moths! Let's celebrate the short life of this fantastic MN craft brewery! The music will rock and the beer will flow till the end!
Yours in the love of beer!
Launched in 2011, Harriet Brewing was one of the new guard of craft breweries in Minnesota. 2011 was the first "boom" year for breweries in Minnesota in recent times with the launch of seven breweries and brewpubs Steel Toe Brewing, Olvalde, Castle Danger, Boom Island, North Loop (Lucid), Dubh Linn Brew Pub and Harriet.