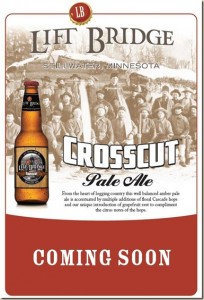 Lift Bridge is on a roll!
On December 4th we will release our Crosscut Pale Ale™ in bottles. Crosscut Pale Ale™ was our second beer release and has been available since September 2008 in draft only. Crosscut Pale Ale™ will continue to be available in draft at fine bars and restaurants.

The beer is a well balanced pale ale with multiple additions of Cascade hops. Our unique introduction of grapefruit peel complements the citrus notes of the hops.

Beer style: Pale Ale
ABV: 5.5%
IBU: 55
SRM: 13

In June of 2009 we released our Farm Girl Saison® in bottles. Many of our current beer store customers have placed orders. Look for our second release in bottles, Crosscut Pale Ale™.