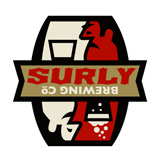 Check out the latest update on Surly's Darkness Day…
Lets talk about D-Day. That's the day we will be selling 750 ML bottles of Darkness at the brewery on October 25th. Here is the latest info…
• We will open the brewery gates at noon on the 25th.
• The first 700 people can purchase up to 6 bottles of Darkness.
• Cost is gonna be $100 for 6 bottles. Tax included and cash only.
• We'll have some bands.
• Food and beer for sale at the brewery.
• Under 21 welcome with parents.
• If you are not one of the first 700, you can still come in and enjoy the scene.
• We will not hold spots for people nor will we ship any Darkness.
• Darkness will not be sold at any liquor stores.
• Darkness will be released the following week on draft.
• Doors close at 6:30, please line up a ride or taxi. We want you to get home safe.Details may change! Make sure you check the website as we lead up to the big day.