Here's this year's artwork for the beer that makes collector nerds sweat and eBay fiend salivate… we're talking about this year's artwork for Surly Darkness. This year Erica Williams takes the reigns with a harpy keeping watch over Surly Brewing Co.'s coveted Russian Imperial Stout, Darkness. (non-cropped version here)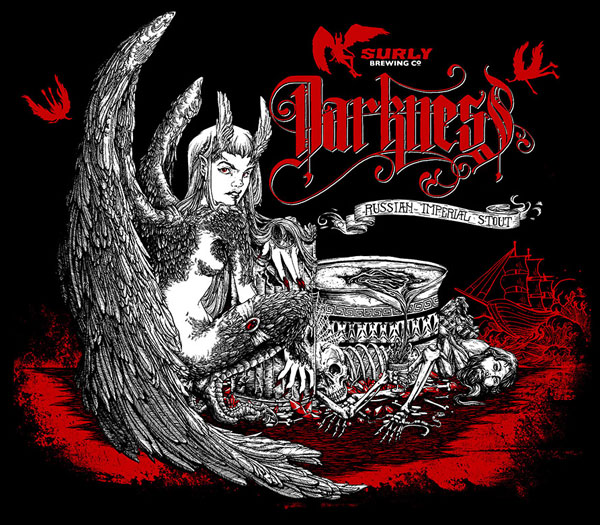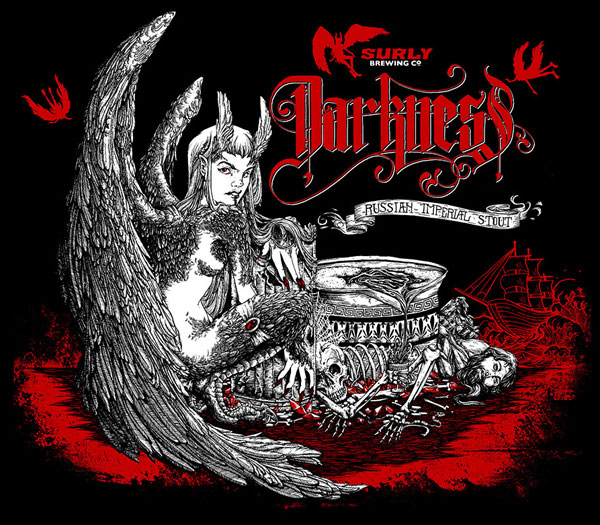 What do you think? Like it? Dislike it? Love it?
Surly Darkness Day 2014 is slated for October 25th at the brewery in Brooklyn Center.
From the label:
The legendary Harpy tortured unwary travelers by stealing their precious food and drink. This year's cruel creature defends her cauldron of Darkness with razor claws and a dead stare of malevolence. Don't mess with her Darkness.

She's hoarding this massively opaque barrel aged Stout screaming with notes of chocolate, coffee, dried tart cherries, vanilla, rye whisky and raisins. The thick body of this Russian Imperial Stout finishes sweet, with a piney resinous hop character.

Dare if you will to open the bottle and steal from the imagination of our 2014 Darkness artist, Erica Williams.