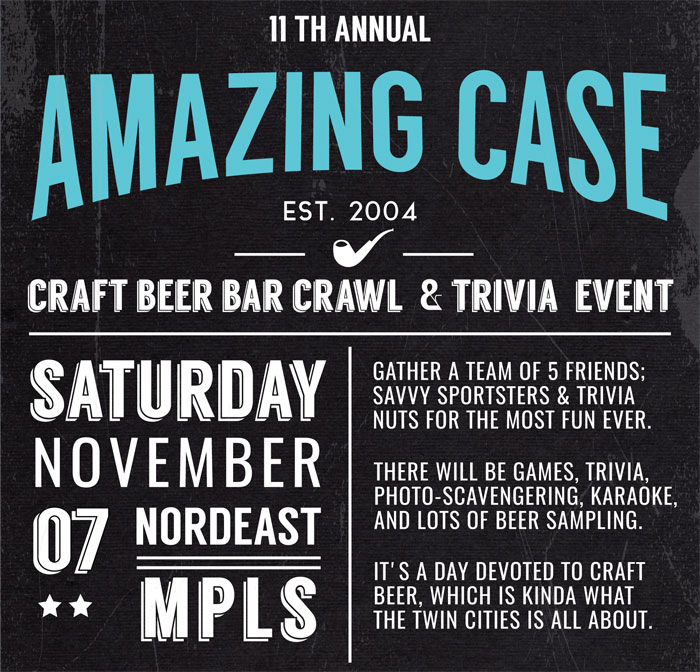 11th Annual: Amazing Case Trivia Bar-Crawl comes to Northeast Minneapolis on Saturday, November 7th
The Amazing Case is a game and trivia focused bar crawl, requiring teams to join together to drink beer and compete in bar games, including cornhole, hammerschlagen, and live DJ dance/sing-off. At each stop, they will decipher trivia and gain photo scavenger clues that will ultimately help us crown a victor. The winning team wins a 3-month supply of Summit beer (any flavor), free entry for next year's event, and infamy; Team name on the trophy, which can be publicly viewed throughout the year at the Summit Brewery in St. Paul.
Last year we celebrated the 10th Anniversary of this historic event, and it just keeps getting better. Do you want to see where all the excitement surrounding Local Craft Beer comes from? When Matt Dowgwillo (of ThriftyHipster) saw Mark Stutrud (of Summit) speak at his entreprenurial class, he talked about "…the distinct ingredients and flavors of craft beer…" So an event was created to bring friends together to learn about, sample, and enjoy. Then we added events like live band karaoke and hammerschlagen, and photo scavengering just in case people needed more. The Amazing Case was the 1st event of it's kind in MN; it features craft beer, bar games, and trivia and has paved the way for other similar events.
This year's event in Northeast Minneapolis will start at Mayslack's Bar at 3pm. Guests will join their teams, pick up their "case packets" and begin their crawl. The event will end at Grumpy's NE where scores will be tallied and winning teams announced.
Registration
This year, the event is open to teams of 4-7 players (due to the smaller venue size, there will be a strict limit of 45 teams).
Admission of $30/player includes all activities, games, Trivia, performers, DJ, T-Shirt, prizes, 2 Free Summit Pints, and $3 drink specials all day. Afterparty to be at Grumpys NE.
If you are interested in the history of the event, photo galleries, trivia, or winners from past years, or to register a team for this year please visit the website.
Event Link & Team Registration: www.AmazingPubCrawl.com
Facebook Link: https://www.facebook.com/events/1478006865834376/
This event is sponsored by Thrifty Hipster & Summit Brewing.
11th Annual Amazing Case Bar Crawl & Scavenger Hunt
Saturday, November 7th | 3-8pm
Minneapolis' Northeast Neighborhood (start at Mayslack's Bar)
Matt Dowgwillo, ThriftyHipster – 612-803-1022 | matt@thriftyhipster.com
Paul Bowser, Summit Brewing – 612-207-9562 | pbowser@summitbrewing.com
###